As Jordin Sparks leads the American Idol contestants on tour this summer, TV Guide sat down to talk with the season six champion:
TV Guide: When did you get to Florida?
Jordin Sparks: We got to Florida on the 1st, so we've been here for a week, you know, tanning and soaking up the sun and rehearsing....
TV Guide: Have you done any sightseeing yet?
Jordin: We had a day off where I rode the WaveRunners and we all just kind of chilled. It was really fun.
TV Guide: Was that your first time on a WaveRunner?
Jordin: It's like a Jet Ski, which I have driven before, and I just had a blast. It was me, my mom, Blake Lewis and Chris Richardson. It was really relaxing. There was a Jacuzzi, and we swam in the ocean.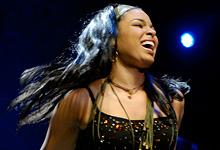 TV Guide

: Did people look twice in the water when they saw you speed by with Blake and Chris?

Jordin

: Yeah, there were a couple of people, but it's OK. We took a lot of pictures and signed some autographs. For the most part, people were really cool and were probably like, "Oh, they're on vacation, too."

TV Guide: Did you get to go do anything else?
Jordin: We get off pretty late from these rehearsals, but Gina Glocksen had a party because it was her birthday this past week. We went to her aunt and uncle's beach house, which wasn't very far from the hotel. We went to Outback Steakhouse after that and ate. It's been just great.

TV Guide: Any surprises about the tour rehearsals, anything you didn't expect?
Jordin: It's been crazy because we only rehearsed with part of the stage back in California. So when we got here and the actual full stage was here, it took some getting used to because it's bigger than we thought it'd be. We've just got to learn how to breathe right and pace ourselves. When we walked in, we were all looking around at the empty seats. This arena is huge and there's going to be people filling up these seats! I can't believe this is actually happening.

TV Guide: Do you still feel like you're dreaming?
Jordin: I am, and it's so much fun. I can't believe opening night is tonight. My adrenaline is pumping at a million miles per hour.

TV Guide

: What will you do to get ready?

Jordin

: I'll probably just pray and breathe, talk to

Melinda Doolittle

and my mom, and just go out there and do what I do because I love performing. When there are big crowds, I feed off of their energy. I just can't wait to get out there.

TV Guide: Will you pig out on pizza at crafts services beforehand, or are you one of those people who gets nervous and can't eat before a show?
Jordin: No, I can't eat before a show. Maybe it is a nervous thing, but I always feel like, if I eat, I'll feel too full and I can't push my notes out. But I pig out afterwards!

TV Guide: Have you seen your tour bus yet?
Jordin: Yes, we have, and it looks awesome. We've got our bunks and they've got little TVs on the inside, and we've got a front area and a back area.... It's a really nice bus. I picked the middle bunk because it goes three up, three across.

TV Guide: Have you outfitted the bus with any fun gadgets or toys?
Jordin: We just got on them yesterday so we really haven't had time to do anything yet, but I'm sure when we get to different cities, if we have time to stop, we'll pick up some stuff to decorate.

TV Guide: I know the boys went out and bought Xboxes and PlayStations for their bus, so I was just wondering.
Jordin: I know! Blake bought an Xbox 360, so that'll be on his bus. I'm like, "Maybe we should get one."

Matt Richenthal is the Editor in Chief of TV Fanatic. Follow him on Twitter and on Google+.

Tags: American Idol