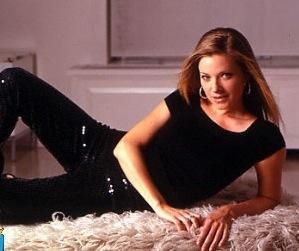 After a year and a half on
All My Children
Cady McClain - or Dixie Martin, to be specific - was abruptly killed off due to a poisoned pancake.
From there, McClain was the first to admit that the turn of events was disappointing, but you know what they say: as one door closes, another opens.
The actress took several months off to put the finishing touches on her debut CD, "Blue Glitter Fish," and perform her music at various venues on the east coast. As Soapdom reports, before long, she was called in by As the World Turns to reprise her Daytime Emmy-winning role of Rosanna Cabot.
Of course, when we last saw Rosanna, she was in a coma. But it does appear as though this status could be changing soon.
In a recent interview, McClain said that everyone at As the World Turns was happy to see her return.  She also shared some insight into working on the showm which actually equates to the differences of working for ABC and PGP. 
"There is a certain ease there (at ATWT). It's really just about the show and the actors and what we're doing there.  The larger world doesn't make its presence known over there. You can just focus on the work you're doing and the people you're doing it with, as opposed to worrying so much about who's seeing it and what they're thinking."