Like other American Idol finalists from season six, Chris Richardson has been touring the country all summer.
TV Guide recently sat down to discuss this and other issues with the Justin Timberlake lookalike...
TV Guide: What are you up to today?
Chris Richardson: I just finished songwriting. One for my album.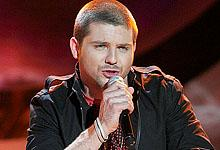 TV Guide

: Tell us about it.

Chris

: I'm not technically signed with anybody or anything, but I'm writing my album and I'm sort of creating my sound. I just got back from L.A. yesterday from laying down a song with Blake that me and him wrote. I'm just trying to find time to sort of get a head start on everything. But I'm enjoying the tour. I love seeing all of these different places and all of these different faces and actually meeting the fans that kept you alive on the show. I'm just having a blast.

Then, in my downtime even though I'm tired because we barely get any rest, I try to write as much as I can. Hopefully, this will give me credibility as a songwriter.

TV Guide: Yeah. Everyone that I've talked to on the tour has said you're writing a lot.
Chris: I'm trying to get my hands in everything that I can. For me, it's not about money and it's not about fame. It never has been. I've never been raised that way. It really is about trying to connect with an audience. But, also, these 10 [other Idol finalists] are my best friends. I know everything about them, and they know everything about me. It's so easy to write for them when you know about them and their personality and who they are as an artist.

TV Guide: Are you writing for all of them?
Chris: The ones that I've been writing for recently are [Jordin Sparks] and [Blake Lewis]. I'm also helping Phil on his country album, and I think I'm going to start writing with Gina also. It's really about capturing their sound. A lot of people get lost in confusion on that show, thinking you're going to do a certain style of music. People always compared me to Justin, which I only took it as a compliment because it could be worse! It also draws a different crowd too because people are like, "Wow, I'm a fan of Justin. Maybe I should listen to this guy."

TV Guide: It's really not a bad comparison.
Chris: The hardest part is breaking away from that to show people that you are completely different. Me, I'm more in touch with my rock side. My music is more comparable to Maroon 5 than it would ever be with Justin.

TV Guide: Are you singing on the track you laid down with Blake yesterday?
Chris: I'm doing background vocals on it. We actually wrote that together on the bus, then we flew out to L.A. and laid it down.

TV Guide: What's the song called?
Chris: "What You Got to Lose?" It's a really catchy song so hopefully it pans out. If it makes his album, that would be great. If it doesn't, well, we had fun doing it.

TV Guide: Have you laid down any tracks with Jordin yet?
Chris: You know, there's nothing that I've laid down with her. I wrote for her and we submitted some songs. She's liked them and, like I said, hopefully it will pan out.  To be honest with you, I think Jordin and Blake are the only ones who are completely signed. They're getting their deals right now and all of us are still waiting for the process to begin after tour.

TV Guide

: Are you in the process of talking to labels about your album yet?

Chris

: Yeah. There's a lot of talk and speculation about a lot of things. It goes from labels to television....

TV Guide: What kind of TV projects have you been offered?
Chris: Well, I haven't had anything completely offered yet because of [restrictions while Idols are on tour]. But the casting director for House approached me. But again, that's not something set in stone, so it's not something I could say [is happening]. But that's an example of people that are approaching me.

TV Guide: Is TV something you're interested in?
Chris: Oh yeah! Television would be great. Again, like I said, whatever comes after tour, if it's a great opportunity, I'm not just going to say no to it.

TV Guide: Ultimately, would you like to write songs, act and perform your own music?
Chris: I would love to dabble in everything but, first and foremost, put out my own album so people really get to know who I am.

TV Guide: You got a lot of attention from the weekly celebrity gossip magazines during Idol. Do you feel like being linked to LC and other stars prepared you for what's next?
Chris: [Laughs] Being that every single one of the things that was written about me was a rumor, which I guess is what happens, yes. Whenever you go into L.A., that's when it starts! I could walk down the street in New York. But right when you get to L.A., I tell you, if you're walking beside somebody and you make contact, you are either dating them or you are married.

TV Guide: Or you have six kids and didn't know it!
Chris: "You have six kids!" "She's knocked up!" "You're getting a divorce!"

TV Guide: What do you think about that?
Chris: Like you said, it does prepare you for what's to come because you can only imagine how people are going to pry into your personal life if you are successful.  I think it was a couple of weeks ago, I was [featured in a tabloid article] "Celebrities Caught with Weird Sayings Shirts" or whatever. I'm on the page with Britney Spears and all of them. I'm like, "What in the world?" I'm wearing a shirt that says "Respect Your Mother" and it has Mother Earth on it.

Matt Richenthal is the Editor in Chief of TV Fanatic. Follow him on Twitter and on Google+.

Tags: American Idol