With six shots of espresso and eight ounces of Red Bull pumping through his bloodstream, Eric Dane slipped behind the steering wheel of his colossal GMC Yukon, adjusted his black Cartier bracelet, planted his foot on the accelerator, and nearly launched into orbit above the Hollywood Hills.
It was a stunning Saturday afternoon - the day of the Live Earth concerts - and as Eric Dane gunned all eight cylinders, his sunglasses reflected the Los Angeles sprawl below, according to Men's Vogue.
"I thought we'd go pick up my dry cleaning," he said.
Three hours later, still no clothes. Dane would rather just drive.
At 34, after 15 years of trying to break into stardom (no college, little formal training), he has hit it big, on the sudsy medical drama Grey's Anatomy.
He had one remaining day off before returning to his role as Dr. Mark Sloan (a.k.a. Dr. McSteamy), the player / plastic surgeon who had an assignation with the wife of his nemesis, Dr. McDreamy.
Eric Dane's most-YouTubed moment to date has him emerging from a scalding shower in the hotel room of Addison (Kate Walsh), with nothing protecting him from 25 million oglers but a towel the size of a napkin.
Coasting down Melrose, he pretended not to notice the shrieks emitting from car after car, as fast ladies rolled down their windows at the sight of him. One could only flail her arms and muster a "wooo!"
"Maybe she wants to get in this lane," Dane suggested.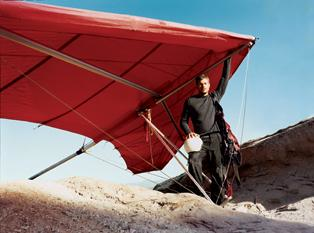 Prime time television was desperate for an i.v. of testosterone when Eric Dane stepped into the scene.

Once a skinny, awkward kid who played water polo and dated "weird-looking girls," he is now undoubtedly full-grown - but doesn't yet have a career to match.

This guy's guy has had a few other parts �" Multiple Man in the third X-Men, and the lead in the surprisingly adept aqua-phobic thriller Adrift, which sank when re-branded as Open Water 2 in the U.S.

Follow the jump to continue reading the interview with Eric Dane from the September edition of Men's Vogue ...

There were also cameos on the cult tween sagas

The Wonder Years

and

Saved by the Bell

, but it took a soap opera to exploit his studliness.

"I like guys who, no matter what, are men," he said.

If he could plot his own future, his next role would be sultry and stately, like Paul Newman in Cat on a Hot Tin Roof.

Dane was seven years old, growing up in San Francisco, when his architect father died an untimely death, the son says. Pressed for answers, Dane turns foggy about the details.

"I think it was a gunshot wound, and he bled to death. There's a tiny bit of mystery surrounding it," he says with peculiar understatement.

Whatever the circumstances, young Eric suddenly found himself the man of the house, with a three-year-old brother and a grieving mom to care for.

"You have to grow up real fast," he said �" and in his case, with a taste for danger.

He has put himself in harm's way routinely: swimming with sharks in South Africa; scuba diving 100 feet down in the waters off Malta; ice fishing with his grandfather in Alaska, where he came way too close to a mama bear and her cub. Closer to home, he revs around on a KTM motorcycle�"his "urban assault, Mad Max, Super Duke bike."

On his Saturday drive, Dane was shaking off jet lag from the month-long European jaunt he'd taken with his wife of three years, the actress and object of universal longing Rebecca Gayheart.

Eric Dane first met Rebecca Gayheart at a party.

His memory of the Noxzema model and 90210 fixture hadn't faded by any means when they ran into each other on a street corner some time later, and he asked her to dinner.

"Then we had another dinner. Then it seems like after the third dinner, I married her," he said, although really it took nine months.

Apart from her compassion, beauty, talent and so forth, Dane's favorite thing about his wife is her minty freshness:

"At four in the morning, you could wake up and lay a kiss on her. I don't know if she made a deal with the devil when she was a kid or something."

Back at his hideaway in the Hills, Eric Dane excused himself to tiptoe into the bedroom for a quick kiss from his napping wife.

Then dreamily, he came downstairs, paused before an open refrigerator, and finished an earlier thought about his craft �" but really about his life.

"What I love about acting," he said, "is experiencing the absolute moments of �" you know �" of getting lost in the world you've created for yourself."

Steve Marsi is the Managing Editor of TV Fanatic. Follow him on Google+ or email him here.

Tags: Grey's Anatomy