Haley Scarnato is the latest season six finalist - following Melinda Doolittle and Jordin Sparks - to be interviewed during the American Idols Live Tour.
Let's see what she had to say to TV Guide about the gig...
TV Guide: What's the best part about being on the road?
Haley: Just that the stress is gone and now we're performing for our fans. That's a nice feeling.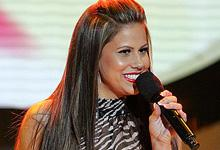 TV Guide

: Is it easier performing on tour than on TV?

Haley

: Well, it's different. The tour is more about us going out there and doing our thing. The judges aren't there so we don't have to worry about what they're going to say. We go have fun.

TV Guide: Is that a relief for you since Simon Cowell was pretty hard on you?
Haley: Yes! It's definitely a relief.

TV Guide: Have you done any sightseeing?
Haley: A little bit. We always try to go shopping on our days off.  I bought some hats and some shirts and stuff, just comfortable clothes. Shopping in Chicago was especially fun.

TV Guide: Are you collecting anything from each city on the tour?
Haley: I am trying to get shot glasses in every city so I can have a shadow box of them. But it's not working out, so I'm going to have to go on the Internet to find the rest.

TV Guide: Do you just go to a bar in each city?
Haley: Normally, I'll try to get them in the gift shop in the hotel.

TV Guide: What's it like traveling in a bus with the other girls? Is anybody a neat freak or really messy?
Haley: No, we're all just kind of chill on the bus, so it kind of works out.

TV Guide: Did you bring anything to remind you of home?
Haley: I brought pictures and stuff, but I don't have it on my bunk because there's not that much room. They're still in my suitcase.

TV Guide

: Has your fiancé come out to visit yet?

Haley

: Yeah. He comes out here and there, so it works out.

TV Guide: Does he go on the bus with you?
Haley: No. He's not allowed. Nobody's allowed on the bus.

TV Guide: Is it tough to stay in touch when he's away?
Haley: Of course, but you just work through it.

TV Guide: How do you do that? E-mail?
Haley: I don't really do e-mail. My e-mail is really more just for business purposes.

TV Guide: Have fans done anything funny while you've been on stage?
Haley: Yeah. Somebody threw a stuffed animal — a frog, I think — at me during the show. And I caught it!

TV Guide: Have you gotten any more marriage proposals from your guy fans?
Haley: Not really! The weirdest thing is just [women saying], "My husband loves you!" or something like that. It's like, "Oh! OK. Thanks."

Matt Richenthal is the Editor in Chief of TV Fanatic. Follow him on Twitter and on Google+.

Tags: American Idol