The Chicago Tribune was on hand to chronicle the Heroes panel at Comic-Con over the weekend...
If we needed proof that geeks now reign supreme over popular culture – especially television – we got it Saturday at Comic-Con International in San Diego.
This year, the yearly gathering of fans of genre entertainment and comic books, which was expected to top last year's 4-day attendance of 123,000 people, was all about the second coming, literally, of Heroes, which got the Comic-Con blessing a year ago and returned to do a victory lap.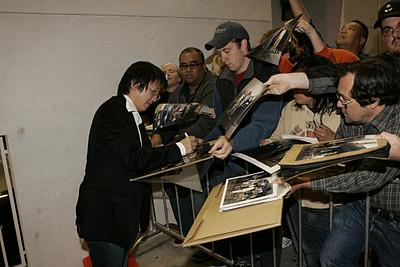 "You helped create this incredible enormous success for the show," creator

Tim Kring

said during the show's celebratory hourlong session.

As if to give the hit NBC show the ultimate nerd seal of approval, the director Kevin Smith, who on Friday presented the pilot for his own new geek-friendly TV show, Reaper, came onstage during the raucous panel the next day to announce that he will write and direct an episode of Heroes: Origins, the spinoff series that will debut in the spring of 2008.

As the surprised and excited cast looked on, the fans jammed into the enormous room went wild, cheering Smith's arrival for a full minute. The director is not just a boldface Hollywood name, he is the Geek Revolution in the flesh: He's written comic books for years, and given his annual presence at the Comic-Con for the last decade or more, the voluble New Jersey native, whose Friday Q-and-A with his fans was diabolically, almost painfully funny, is pretty much the honorary mayor of Nerdtown.

And Smith was the one who was nervous, not Kring, who was the bearded, professorial type on the panel, which also featured the entire, 12-person cast of the show.

"I just don't want to be the guy who ruins Heroes," Smith said.

What a difference a year makes, huh? In 2006, the NBC show came as a supplicant to the convention, which has been used to build buzz about films for years, to the extent that the stars of big-budget tentpole movies are more or less expected to turn up (this year Jessica Alba, Harrison Ford and Nicolas Cage were only a few of the A-list types who came to flog upcoming projects).

Heroes got a good reception at Comic-Con a year ago, and then the show blew up that fall. Cause and effect? No one can say for sure, but the positive reaction of the blogging types at the convention certainly didn't hurt.

Whether or not that show's success story can be replicated like an army of droids (or possibly clones), the Heroes effect was impossible to ignore this year at Comic-Con. Many network shows for fall – everything from the fanciful Pushing Daisies to the vampire drama Moonlight to the geek-friendly remake of Bionic Woman – presented clips, complete pilots and/or panel discussions.

Whether or not the Comic-Con types truly have the power to make or break a TV show or to "open" a movie, Hollywood executives are paying studious attention to the likes and dislikes of the men and women at the fest, which, 37 years ago, started out with 300 comic-book collectors in the basement of a San Diego hotel.

Not only do the fanboys and fangirls apparently have a sizable amount of power over the Hollywood entertainment machine, now they're the star of the show. Comedies starring slacker man-boys are all the rage at the box office, and TV is following suit. The CW comedy

Aliens in America

features two nerdy high schoolers – one of them a Pakistani Muslim – and that network's

Reaper

tells the story of a charming but ambitionless geek who works at a big-box store but comes to find he has a special destiny.

The people behind those new shows no doubt want to be, a year from now, bathing in the kind of love fest that Heroes got on Saturday. And it was an almost cloying love fest at times: Many of the questions from fans during the Q-and-A session contained the word "love," "awesome" and "amazing." Although one questioner, God love him, had the guts to indicate that he didn't love the show's widely criticized season finale. Now there's a hero.

The Heroes panel discussion with the entire cast as well as members of the show's creative team began at 12:45 p.m. Saturday, but fans who weren't in that room by about 9:30 a.m. were out of luck. Several thousand fans who couldn't get into the Heroes panel lined up in vain for hours, in queues that snaked around the enormous San Diego Convention Center.

And if you think the average Comic-Con attendee is a twentysomething dude who still lives with his parents and plays videogames all day, think again. A good portion – maybe 40 percent or more, based on a completely unscientific assessment - of those in the room for the biggest TV panels were women.

Allison McConachie, 30, who came all the way from Scotland for Comic-Con, was there to see the Heroes panel. She not only loves Hiro, she enjoys all the online elements of the Heroes experience, which contain important clues for dedicated fans of the show.

"I like to find things out before other people," McConachie said. And the Heroes crew rewarded her patience by revealing a few tidbits of information, the biggest being the news about Smith's gig on Heroes: Origins, which will not feature any of the actors from the main series.

As fans asked their mostly soft questions, the cast was in a jokey and playful mood. Jack Coleman wore a T-shirt that said, "I'm just a paper salesman" (and he noted that his favorite moment of Season 1 was when he want from guest actor to series regular).

Greg Grunberg (who plays Matt Parkman) and Sendhil Ramamurthy (Mohinder Suresh) did a fake Hollywood kiss; a brief clip of moments from Season 2 was shown (there was a flash of David Anders, who'll have a role to play in Hiro's trip back in time to ancient Japan).

And Masi Oka crawled out in front of the panelists' table to attempt to fix the speaker system, which was emitting a strange hum (his tech credentials are in full order – he used to have a job with Industrial Light and Magic, where he still consults part-time).

There were even a couple of prickly moments, as in when a female fan asked if the show would ever prominently feature female character who were "not cheerleaders or strippers."

Kring calmly said he thought of the characters Claire (Hayden Panettiere) and Niki (Ali Larter) as women who defy expectations, and Loeb noted that Season 2 has two new additions, a Hispanic character named Maya (Dania Ramirez), as well as Monica, "who comes from the flood-ravaged area of New Orleans."

Matt Richenthal is the Editor in Chief of TV Fanatic. Follow him on Twitter and on Google+.

Tags: Heroes