NBC found a lifeline with Heroes, the biggest new hit last season.
As The Orlando Sentinel reports, the success will reverberate with the DVD release Aug. 28, at the Emmys September 16 and in many new fall series that feature superheroes.
Then there's the main event: Season two starts September 24. Yet series creator Tim Kring says he's not feeling pressure to top last season.
"It's pressure to keep it going," Kring says. "This particular show has become a show defined by its ability to defy your expectations. People want that experience of watching the show and not knowing where it's going to take them."
Heroes will introduce more everyday characters with astonishing powers this year. Among them the actor playing these roles? David Anders, Jessica Collins and Dianna Agron.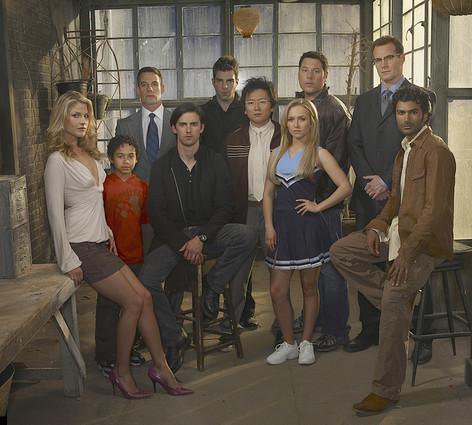 Heroes features, from left, Ali Larter as Niki Sanders, Noah Gray-Cabey as Micah Sanders, Adrian Pasdar as Nathan Petrelli, Milo Ventimiglia as Peter Petrelli, Zachary Quinto as Sylar, Masi Oka as Hiro Nakamura, Hayden Panettiere as Claire Bennet, Greg Grunberg as Matt Parkman, Jack Coleman as H.R.G., Sendhil Ramamurthy as Mohinder Suresh

"The message of hope caught people's attention," Kring says. "There's something hopeful about the idea we have these abilities, and abilities to connect around the world."

NBC Universal hopes to connect a vital property with more consumers. Universal Media Studios produces the series, which is a model for how NBC hopes to expand its business online and internationally.

"A hit does drive the business," says Ben Silverman, co-chairman of NBC Entertainment. "Then we can build so much of this around it."

Universal Studios Home Entertainment is releasing the first-season DVD weeks before season two begins. The goal: gain viewers who haven't watched and please fans with extra content.

"There's like 50 extended and deleted scenes," says Masi Oka, who plays Hiro. "You get to see the behind-the-scenes things, the making of, Tim Kring's commentary on the 72-minute pilot that we premiered at Comic-Con."

Heroes will produce 24 episodes next season. The plan is for them to end in April. Heroes: Origins, a six-episode anthology series, will air in May and introduce characters separate from the main series.

At the

Emmys

next month, Heroes will compete for best drama and Oka is up for supporting dramatic actor.

"I'm just definitely floored and humbled," Oka says. His take on the role: "kind of the average everyman that viewers can imagine themselves being."

A surer sign of success than awards: Other programmers have studied the Heroes model. Characters with extraordinary powers can be found in ABC's Pushing Daisies, The CW's Reaper and CBS' Moonlight. NBC will schedule two such series with Heroes on Mondays: Chuck and Journeyman.

"We've got to be a little careful that just because a Heroes works in season one that 10 shows like that can work," says Steve McPherson, president of ABC Entertainment.

And there are limits to how far NBC Universal can extend the Heroes brand. What about a theme-park ride?

"No one has talked to me yet," Kring says.

Matt Richenthal is the Editor in Chief of TV Fanatic. Follow him on Twitter and on Google+.

Tags: Heroes