The faces of women often turn red when met with the good looks of James Scott.
But this Days of Our Lives star is focused on the color green instead.
Scott is a co-founder of Urth Solution, a company that helps developing markets capitalize on their natural resources in an environmentally friendly way.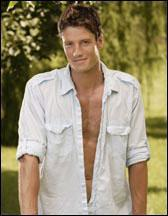 "I was thinking about doing something like this for a few years," the

soap opera hunk told Soap Opera Digest

. "It's good to carry some sort of certification of being Green. I thought I'd try and find a company that would help communities in resource-rich areas to be able to harness those resources in a sustainable way then sell them for a premium to the West. It's basically about helping communities help themselves."

With that in mind, Urth Solution was born a year ago.

"People have been very receptive to it," said Scott. "Urth Solution helps communities in developing countries find ways to address social, environmental and humanitarian issues."

The actor just got back from Bolivia on behalf of the company.

"Basically, we find communities that are rich in natural-asset wealth," he continued. "In Bolivia, we found a community that has a lot of gold. So we're investing in a program to help the residents of that community mine the gold in an environmentally sustainable way, so that we can generate profits for the community."

Urth Solutions currently has projects in Bolivia and Madagascar. Scott hopes to branch out even further.

"I'm going to Mongolia in September," he said. "I have been asked by World Bank to go and give a small presentation on my company, which they see as being a fairly good model for progressive businesses."

It sure does appear that way.

Matt Richenthal is the Editor in Chief of TV Fanatic. Follow him on Twitter and on Google+.

Tags: Soap Operas