We love Masi Oka at Heroes Fanatic.
So do the folks at UnderGroundOnline, as that site recently chatted with the actor...
On his first reaction to reading Hiro Nakamura:
"I thought it was phenomenal because it wasn't one note. Tim Kring created an amazing, beautiful world with such rich characters. Hiro embodied the sense of the everyman, in many ways, and how we all dreamed as a kid of wanting to be a superhero. And he's someone who kept his dream. He believed in it, believed in it, believed in it, and finally his dreams came true.
To be able to live vicariously my dreams of becoming a superhero through his dreams, it's just fantastic. And I'm just very fortunate to have been part, and having Tim entrust me with the character."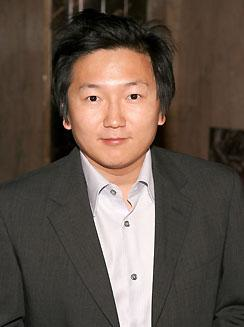 Oka on working with George Takei:

"George Takei was phenomenal to work with. He's not only a generous actor, but a generous person. He's an icon in every aspect of Asian-American TV and American cinema. You have your

Star Trek

, everything, you learn so much from him. And if you were to ask George Takei he would say, [using the best George Takei impersonation ever] 'Well, I found working with Masi to be quite an experience. He's quite a young and talented individual. And it's nice to see the sci-fi generation get passed on from the older to the younger and the legacy being kept alive.'"


On whether we will see George Takei again:

"Yes. The season premiere you will see George Takei, as well as the rest - Masi and everybody else."


On Season Two being independent of Season One:

"

Season Two

is about new storylines. The whole idea, it's a new beginning for everyone, so that people who haven't watched the Season One can also catch up through the DVD, but you also just jump in to Season Two and watch it from there as well."

On his real-life hero:
"Well, my real life hero, as sappy as it makes me sound, is definitely my mother. Growing up, being raised by a single mother who came from Japan to America to provide for our entire family and give me a better life in America. She gave up pretty much her entire life for me. So it's going to take not only my lifetime but my lifetime after that to repay. I'll never be able to repay what my mom has done for me."

On mixing acting with his special effects background:
"Well, definitely it's really nice to be able go back. I have a lot of respect for what goes on, not only in front of the camera, but what goes on behind the camera. I remember spending months and months just to get about 200 frames out, and what it takes. A show is as good as its weakest link. And whether it's from the caterers, the effects folks, we have fantastic people all around.

Our effects folks are doing a bang up job. It's great to be able to talk to them on set and just say, "Hey, why don't we try to -- how do we (hot) archive this matte process?" or "Where do we need to put particles to work?" or "Where's the 3-D virtual..." You know, it's really cool to be able to talk that on the set and have kind of a camaraderie there."

On his first acting job:
"Recalling my first TV job in Los Angeles was actually for a pilot called Straight White Male. It was for the FX Channel. And it was a pilot that didn't get picked up. But I recall it pretty well, because that job allowed me to fulfill the contract I had with ILM at that time, and allow them to agree for me to stay in Los Angeles and continue working for ILM in a telecommuting capacity while pursuing acting down in Los Angeles. So that was definitely a memorable role for me."

On the production of Season Two:
"We're deep into production. We're moving at a really fast pace. We're almost starting Episode 5, I believe -- or we may have started. The filming has been fantastic. The location looks phenomenal. It looks great. It looks like feudal Japan. You wouldn't have guessed that it's Ventura County. But it looks like feudal Japan. And the scout people found an amazing place.

It's been so fun working with David Anders and Eriko Tamura. They are the main focus in Hiro's feudal Japan storyline. And we've been having lots of fun, lots of action and drama. So it's been great. And I know Hiro will be in feudal Japan for a handful of episodes."

On the Season One DVD:
"DVDs are great because it gives us an opportunity to give fans more as well. Not only to just recap the episodes they've seen, but there's like 50 extended and deleted scenes, [and] we even have the 72-minute premiere of our pilot episode... it's like a huge seven box set, but you get to see the behind the scenes things, the making of, Tim Kring's commentary on the 72-minute pilot that we premiered at Comic-Con.

Yesterday, actually, I got a chance to see the DVD content and there's some really cool stuff in there with the special effects, in particular, the scoring."

Matt Richenthal is the Editor in Chief of TV Fanatic. Follow him on Twitter and on Google+.

Tags: Heroes