Van Hansis is in the news a lot these days.
He and Jake Silbermann shared a man-on-man kiss last week that continues to generate buzz.
Therefore, it seemed like a good time to check out this young actor's blog. He answered fan questions over at the official CBS website for the show...
I didn't know want to blog about this time. The summer? Luke's towel scene? What's coming up for Luke and Noah? I do all that stuff in interviews. I wanted something new, and like a bolt of lightning, something new showed up.
Frisco asks: Boxers or briefs?
Answer: Usually boxer briefs actually, sometimes briefs though and on occasion boxers. I don't like the way boxers bunch up.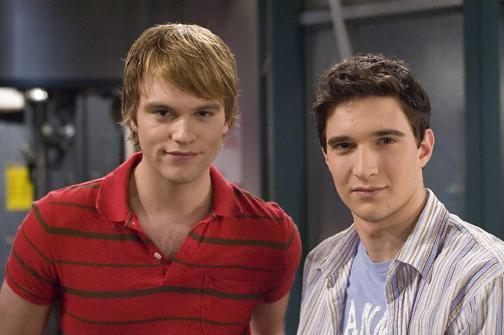 RogerD asks: Career-wise, I would ask Van what are his ultimate plans in the business (i.e. does he want to continue to do theater and stay in New York or does he ultimately want to do big budget films in Hollywood). On a personal level, I would ask him what he values most in another person.
Answer: Well, RogerD, I just want to be a working actor. I love New York, so ideally I'd like to stay here if I could. However, I also love television as a medium, so I want to explore that, too. I will never give up theater, but it's a reality that if you don't sing or dance, making a living in theater can be tough. As far as big budget blockbusters, who knows? They wouldn't be what I would actively seek out, but if one happens for me, I wouldn't be against it.

As for what I look for in other people it's generally humor and integrity, pretty simple huh? Don't be self obsessed and have opinions that you know how to share without coming across as ignorant or overblown.

Brhannada's Armour asks: What is the most powerful, original, and/or enlightening story you can imagine for your character?
Answer: Watch what's happening for Luke in the next few months. Big stuff. Big, big stuff and I'm pretty excited to play it.

BNJ31 asks: What is your favorite thing about New York and where do you hang out?
Answer: I love New York because you can get everything here - every food, every type of performance. Sitting in the park is endlessly entertaining watching the people. I love the way New Yorkers band together in crisis and I love the food. I usually hang out downtown or in my neighborhood in Brooklyn. Brooklyn is my favorite borough.

Lildenlover asks: Is Martha Byrne very different from her character?
Answer: Yes, she is – very, very different. Martha is freakin' hilarious. She is so witty and quick. She is also pretty business savy, which Lily seems not to be at all.

Matt Richenthal is the Editor in Chief of TV Fanatic. Follow him on Twitter and on Google+.

Tags: Soap Operas