In anticipation of Season Two of Friday Night Lights, we're taking a close look at each of its primary stars, many of whom you likely don't know all that much about. You should, too. They're very cool!
Friday, we profiled Scott Porter, who has won widespread acclaim for his portrayal of the embattled Jason Street. Today, we'll tell you more about the cute, talented actress who plays his love interest, Minka Kelly.
Minka Kelly was born on June 24, 1980 in Los Angeles, California, and raised in Albuquerque, New Mexico. As the daughter of Rick Dufay, a member of the band Aerosmith, and Maureen Kelly, a Las Vegas showgirl, there was no doubting Minka Kelly's pedigree in the entertainment business from the start.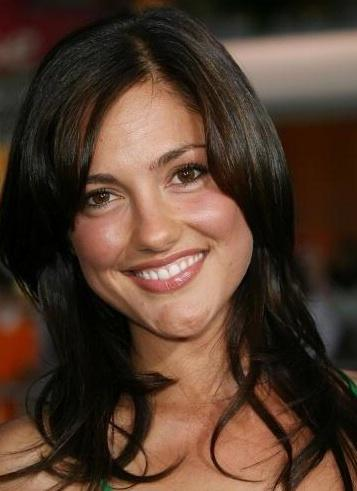 From a very young age, her talent was soon discovered. Minka made her TV debut on Nickelodeon's hit TV show Drake and Josh. As she grew older, Kelly learned to further appreciate acting, and planned to pursue it as a career.

Minka attended school in Albuquerque, N.M, where she focused on her career from an early age by enrolling in acting classes. Her goal was to land good roles, but more importantly, to play them correctly. She credits this drive for success and attention to detail as what opened doors for her.

While Minka Kelly trained to become a surgical technician in case her dreams of acting stardom didn't pan out, she decided to move to Los Angeles with her father in order to give it this dream her best shot. There, she was able to land a role in her debut movie Devil's Highway in 2005.

This performance got the attention of talent scouts and got her roles in American Dreams, What I Like About You, The Pumpkin Karver and State's Evidence.

She is best known, of course, for her breakthrough role as head cheerleader and vixen Lyla Garrity on the NBC series Friday Night Lights. She recently finished shooting The Kingdom alongside Jamie Foxx and Chris Cooper.

On a personal note, Minka used to date Fantastic Four star Chris Evans, but they are no longer seeing each other. She was also dating Donald Faison of Scrubs for awhile. Recent reports have linked Kelly to Harry Morton, the young heir to the Morton's Steak House chain and also CEO of the Pink Taco chain.

Her acting talents may be formidable, but it's impossible to talk about Minka Kelly without at least mentioning her amazing good looks - which landed her at #42 on the Maxim magazine's Hot 100 of 2007 list.

Matt Richenthal is the Editor in Chief of TV Fanatic. Follow him on Twitter and on Google+.

Tags: Friday Night Lights