In anticipation of Season Two of Friday Night Lights, we're taking a closer look at each of its primary cast members, most of whom you probably don't know very much about. Well, it's high time that changed!
Yesterday, we profiled the brooding Taylor Kitsch, who plays running back Tim Riggins. Today, we'll take a look at the talented young man who plays Panthers field general Matt Saracen - Zach Gilford.
Zach Gilford was born on January 14, 1982. Born and raised just outside Chicago, he graduated from Evanston Township High School in 2000 and Northwestern University in 2004, right in his hometown. He has two sisters.
Playing star quarterback Saracen isn't a stretch for Gilford, a big sports fan who grew up dreaming of being a professional basketball player (despite his modest 5'9", 180-pound frame) and played football himself in high school.
A die-hard Chicago Bulls backer, Zach Gilford has said his hero growing up was Michael Jordan, yet he named his dog Pippen (in honor of Bulls great Scottie Pippen) and even got a "Pip 33" tattoo on his calf at age 13.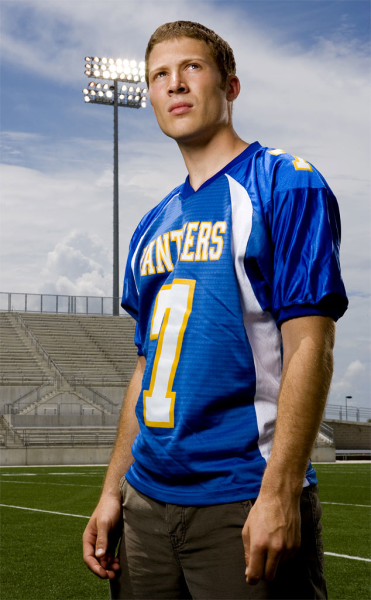 Theater also occupied a place in Zach Gilford's life from a young age, though, as he performed in numerous productions in high school and college.

He began acting because a girl he liked was in a play, and interestingly, Gilford may have gotten some early preparation for his future role of Matt Saracen by dating his high school principal's daughter back in high school.

Gilford played in a production of Equus, SubUrbia, Women and Wallace and The Laramie Project at Northwestern, where we majored in education and theater, and moved to New York in 2004 with hopes of becoming an actor.

Zach's big break came on Friday Night Lights, and he now resides in Austin, Tex., where the series is filmed. He has also appeared in The Last Winter (2007) as Maxwell McKinder and Rise: Blood Hunter (2007) as a sailor.

An avid outdoor enthusisast, during his breaks from filming, he spends his time leading climbing expeditions in Alaska or British Columbia.

Matt Richenthal is the Editor in Chief of TV Fanatic. Follow him on Twitter and on Google+.

Tags: Friday Night Lights