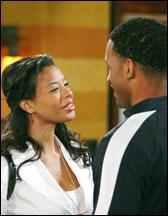 Vanessa Simmons is loving her time on
Guiding Light
so far.
"The opportunity just sort of came along," Simmons said. "They asked if I wanted to audition for the show, so I went in and I did the screen test and they called me like two months later … and asked me if I could come and do stuff for the summer.  It's been a really, really great experience.  I never imagined working on a soap opera would be so much fun."
On Guiding Light, Simmons plays Lola, is a young woman who's drawn to Remy Boudreau (Lawrence Saint-Victor).
"She's a little bit different," Vanessa continued. "She's been a lot of fun to play, though.  I don't think she's quite sure of herself or who she really is.  She's trying to be this bad girl. And I'm like, Geesh.
This is so opposite of me! How do I really get into this?  But it's been fun. I get very anxious when they tell me they're going to send my script.  I'm like, 'Oh, God, what's she going to do next?'"