The following interview is courtesy of GossipGirlOnline.net...
Q: How are you and your character different in real life?
Taylor Momsen: She cares a lot about what people think of her obviously. She really cares what Blair wants. She really wants to be accepted in that crowd and be popular where as me as long as I have my good friends. I'm cool with that and I'm cool with myself so it's like we're different in that way but we have a lot of similarities too.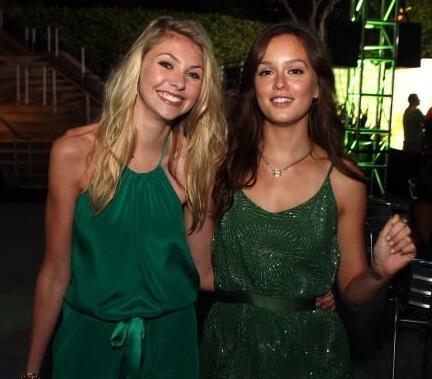 Q

: Do you get along with the cast really well?

TM

: I do. We're like a big family. It's so great. I love, love working on [Gossip Girl]. We're like really a family. It's like a family away from a family. (Laughs).

Q: Do you feel out of place being the youngest cast member?
TM: Not really. I'm use to being the baby except for my real family I'm the oldest. But I'll tell you that I've always been the youngest in my class and the youngest on everything so you know it's good, you know it's fun. They look out for me.

Q: Do you like shooting in New York?
TM: I do. I love it. I'm so excited we got to film the show here you know oppose to LA because New York is the character and you can't recreate that. It's great

Q: How did you find out and get involve with Gossip Girl?
Penn Badgley: I actually worked with Stephanie Savage before who created the show with Josh Schwartz. I met Josh when they were trying to do a spin off with Willa Holland I think for the OC. I knew them both and I had a relationship with Stephanie and they sent me the script of Gossip Girl and they told me about the books. I knew nothing about them. It seemed like an amazing opportunity to work with them to be a part of something that could be big so I signed on.

Q: Do you get along with the cast really well?
PB: We actually get along incredibly well. We're all great friends. I was actually just texting Blake. We're really close. In fact, one of the things I'm most thankful for in this show, the whole experience has been the friendships. That's no shit. That's no lie. (Laughs).

Q: How do you relate to your character?
PB: I think everybody relates to Dan. He's the most easily relatable because he's the most real. He's the most vulnerable. I think he's the most teenager - like out of everyone because they all live such ridiculous privileged life styles and he's from Brooklyn. He literally lives in a really incredible apartment even though he's poor. He lives the most normal life. He's the most regular.

Steve Marsi is the Managing Editor of TV Fanatic. Follow him on Google+ or email him here.

Tags: Gossip Girl