Here's an inside look at Lee Pace, along with other aspects of the series, courtesy of The Associated Press:
Relaxing on the set of Pushing Daisies, Lee Pace taps the air teasingly with his forefinger. It's how Pace's character, Ned, makes others live or die with a single stroke on the darkly whimsical ABC drama.
It's also how Pace keeps British actress Anna Friel, his lively co-star, in line during long production hours. Friel plays Ned's longtime love, Charlotte "Chuck" Charles.
"When Anna acts up on set, I just touch her like this," Pace said, pointing a magic finger.
The finger-tap is a joke on Ned and Chuck's deadly dilemma. In the show's pilot, Ned resurrected Chuck after she was murdered. Now they live together. If Ned touches Chuck once more — directly, skin-on-skin — she's back in a casket, pronto.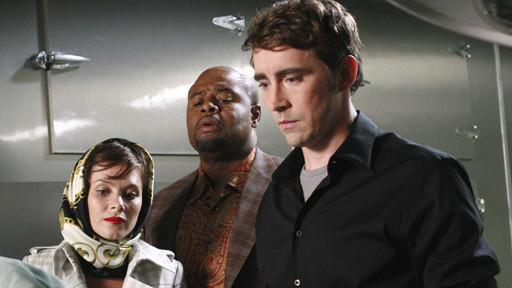 "Just sitting together in a car, it's life or death stakes for them," Pace said of the seemingly doomed (or at least physically frustrated) couple. "Every day when we block scenes, I think, `Now how should we hold our bodies?'"

In fact, the physical intimacy of Ned and Chuck is carefully chaperoned on the Warner Bros. lot in Burbank, especially by executive producer Barry Sonnenfeld, who also directs the series.

"Barry's always going, `Ooops! Don't you dare touch Anna,'" Friel said. "It's hard, trying to fit together into a tight two-shot."

But, is the show trying to be political?

If Pushing Daisies carries a message about sexual abstinence, "that was never the intention, but you can certainly read it in," creator Bryan Fuller said. "I suppose the show is really about the dangers of any kind of intimacy, not just physical intimacy.

Pace agrees, saying the series is far deeper than anything sexual.

"Ned's real gift is the understanding of the value of life and death," the actor said. "He's not careless with his powers. But after he brought Chuck back to life everything is different for him. It's like his life is happening for the first time."

Visually, Pushing Daisies pops with rich colors and quirky sets including the Pie Hole, Ned's restaurant-in-the-round with a crust-shaped roof.

The show is also an ongoing homage to one of Fuller's favorite filmmakers, Alfred Hitchcock. A future episode will feature a take on the dream sequence in Hitchcock's "Vertigo," Fuller said. Another episode will send up the infamous shower-stabbing scene in "Psycho."

"And there's a big homage to Hitchcock's The Birds, with a character who's pathologically afraid of birds," Fuller said.

On the romantic side of the series, visual jokes abound. Ned and Chuck must never brush flesh against flesh.

But they adopt an array of inventive protective barriers, including cellophane, body bags and beekeepers' suits.

"Actually, there's something about the not-touching that's kind of hot," Pace said. "Ned and Chuck are turned on by wishing they could touch. When they cross each other in a doorway, they share that moment of, `I wish I could kiss you, I wish I could run to bed with you — but I can't.'

But there's still something sexy about it, you know?"

Matt Richenthal is the Editor in Chief of TV Fanatic. Follow him on Twitter and on Google+.

Tags: Pushing Daisies