Barack Obama, the Democratic Illinois Senator and presidential candidate, may be on a whirlwind, year-long tour of the country campaigning to be the nation's chief executive, but he's not completely out of the fall TV loop.
When he spotted avid supporter Kate Walsh at his October 20 fundraiser in Hancock Park, Calif., he went over to the redhead to talk about her new Grey's Anatomy spin-off and bona fide hit, Private Practice.
"So great to see you!" Barack Obama said. "How's the new show?"
"It's going really well," Kate Walsh replied.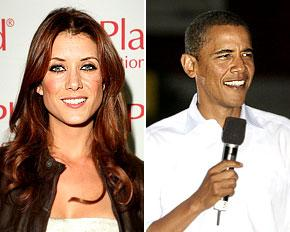 The talented actress, 40, was there with her husband of nearly two months, 20th Century Fox production executive Alex Young. The couple first went public at a fundraiser for Barack Obama, 46.

As for Barack Obama's diagnosis on Private Practice:

"I'm always out campaigning ... I haven't been able to watch it so I can't give you a review," he admitted, "but I'm sure it's great."

We happen to think he's right!

Despite his busy schedule, Barack Obama will have plenty of opportunities to check out the series, as it was recently renewed for a full season!

Steve Marsi is the Managing Editor of TV Fanatic. Follow him on Google+ or email him here.

Tags: Private Practice