Why did Bettina Bell risk heartbreak and humiliation on The Bachelor? In part because she is childhood pals with Tessa Horst, who won the heart of last season's Bachelor, Andy Baldwin, on the reality dating series.
"I don't know if I would have done it if it weren't for her," Bettina Bell, 27, now a real estate agent in Hermosa Beach, Calif., told the Washington Post.
The tall blonde was among the final three women competing for a proposal from Texan Brad Womack (he started with 25) until he eliminated her last week; her exit was one of the most dignified ever on a show known for weepy hysterics.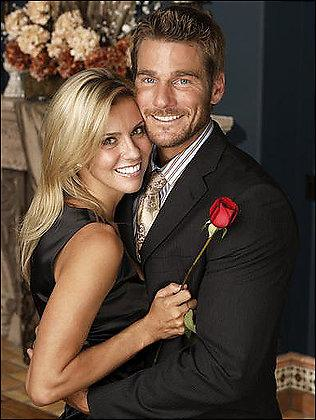 A photo of Bettina Bell and Brad Womack on The Bachelor.

"What I was feeling was so good," Bettina Bell told Brad Womack as she was given the boot, but "... you aren't right for me and obviously vice versa."

Seems that - brace yourself - there's not a lot of reality in reality TV.

"You see us on a date, but we have five producers standing around," Bettina Bell said. The intimacy-on-camera? As yucky as you'd expect. "The producers say, 'If you give us a kiss on camera, then we'll leave.'"

Although sometimes, she says, "you do get lost in the moment."

And now Bettina Bell wonders how real the emotions were.

On air, she claimed to be "completely falling in love." But she told the Post that "it was more of a crush, magnified by the fact that there are 24 other women who are digging the guy you dig. So it's all blown out of proportion... You're in this dreamland, and all of a sudden you come to reality again."

Indeed, few couples from The Bachelor endure. And by few we mean none. Tessa Horst and Andy Baldwin's TV engagement is currently on hold.

Bell's only regret: bringing a TV crew into her parents' home in D.C., at which point her skeptical dad was cast as a killjoy. But the gig did get her name out there to a lot of folks looking to buy in Hermosa Beach.

"Business has never been busier," Bettina says.

Matt Richenthal is the Editor in Chief of TV Fanatic. Follow him on Twitter and on Google+.

Tags: The Bachelor