The 81st straight week of the Grey's Anatomy Insider Caption Contest proved to be a good one for sure. Let's take a look at who won this week's caption contest, which used a photo from the episode "Physical Attraction, Chemical Reaction."
While there were many great Grey's Anatomy captions and pieces of dialogue between Alex and Lexie sent in to use as captions, we chose She'sGotMyMcLife! as this week's winner. It was difficult to choose from all the great captions we received but this one was our favorite. It seems to sum everything up so well.
Thanks, as always, for playing the Insider's Caption Contest and for making us the #1 Grey's Anatomy fan site and resource online. You can scroll down the page to read all the replies from last week. The winning reply appears under the photo!
Here is this week's Caption Contest image: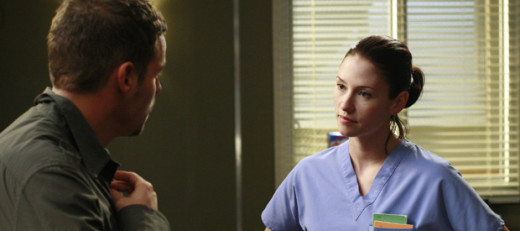 Lexie: "Alright. Let me see if I've got this straight. You slept with Izzie, Izzie slept with George, George slept with Meredith and Callie, Callie slept with Mark, Mark slept with Addison, Addison slept with Derek, and Derek is sleeping with Meredith."
Alex: "Yup."
Lexie: "It's amazing you guys get any work done."

Steve Marsi is the Managing Editor of TV Fanatic. Follow him on Google+ or email him here.

Tags: Grey's Anatomy, Caption Contests