James Pickens Jr.'s wife is hoping her husband of 23 years has a steamy affair. And she's already picked out the perfect woman to take part.
"I want him to be with one of those young girls, like Sara Ramirez," Gina Taylor Pickens tells USA Today over lunch with her Grey's Anatomy star husband.
"That would be perfect. Sara's Rubenesque, a hot Latina. The two of them together would burn that screen up."
She is, of course, speaking strictly about her husband's TV alter ego: Dr. Richard Webber, a.k.a. "The Chief," Seattle Grace's hospital administrator.
The character just split from his wife after his workload - coupled with a battle over their niece's cancer - took a toll on their fragile marriage.
"He was never at home," James Pickens, Jr., explains. "He was so dedicated to his job that his marriage evaporated right before his eyes and he never realized it. To try to balance your work with your family life is tough.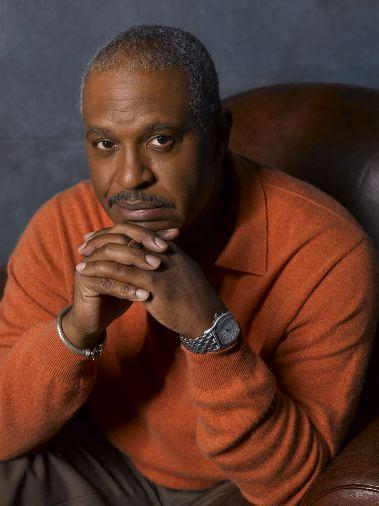 James Pickens, Jr., certainly knows this from experience.

He met Gina 27 years ago, when both were struggling actors on the New York theater scene. "I thought she was cute, and she gave me her number," he recalls. Their first date: a spring stroll through Central Park.

The two struggled financially for a few years, but James Pickens, Jr., believes "you gain strength in the struggle. We never veered from the focus of our careers, but also committed to staying together and building a family."

Before landing Grey's Anatomy, Pickens, 53, was recognized for recurring roles including those on "The X-Files," "Beverly Hills: 90210" and "Roseanne." There were also parts on the quickly canceled "Brooklyn South," "City of Angels," "Philly" and "The Lyon's Den," all leading up to his casting on the ABC medical hit.

This Thursday, Richard, whom Pickens says some Grey's fans have dubbed "McClassy" or "McChocolate," will bond further with Drs. McDreamy (Patrick Dempsey) and McSteamy (Eric Dane). The Chief has already moved to his own bachelor trailer into the woods alongside Patrick Dempsey's Derek Shepherd.

Though his character, Richard, has failed in marriage, his real-life wife commends him for balancing personal and professional lives.

"I wouldn't call him a workaholic," she says. "I would say he has a passion for whatever he is working on, but he is a very well-balanced guy."

Gina Pickens, also 53, knows firsthand the demands of show business. Years ago, Gina actually worked as the understudy for James' TV wife, Loretta Devine, in Broadway's "Dreamgirls." But she is best known for the 1970s disco song "(Push Push) In the Bush," which she recorded with the band Musique.

Asked to explain some of the provocative lyrics, Gina, who is planning a concert in February, rolls her eyes, then explains that the song was actually written about a gay enclave on Fire Island.

"It became really whatever you wanted it to be," she says.

What does her husband think of the song?

"I think it's nasty which I like," he says.

"Mmm, mmm," Gina grins, shaking her head. "You're so bad."

On the grounds of the Airtel Plaza Hotel, their favorite romantic getaway, the two kiss and canoodle like newlyweds. "We've had struggles like any married couple would," he says, "but we just work through those things."

The solid marriage proved a tremendous support for James Pickens, Jr., during Grey's Anatomy's third (2006-2007) season, which ended with the dismissal of the couple's good friend, Isaiah Washington.

"I miss his character. It was one of the more fascinating ones," James Pickens says softly of Washington and Dr. Preston Burke. "And I miss having him around. He brought an energy and a dynamism not many actors could."

But, he says, shrugging, "stuff happens."

Their friendship with Washington and his wife, Jenisa, endures, and in an e-mail to USA Today, Isaiah Washington says, "Gina and James Pickens Jr. are on my eternal list of True Friends. And that is a very short and special list locked away in my heart."

The rest of the Grey's Anatomy cast also has forged a unique support network. Some of the younger actors have sought Gina Pickens' advice.

"I've shared with them how we've been able to sustain a happy marriage for so long," she says. "I tell them our mantra: Walk in love, forgive quickly and treat strife like a basket of rattlesnakes."

That axiom has aided them through another go-round as parents.

While their daughter, Gavyn, 19, is studying theater at a Virginia college, they are raising 13-year-old granddaughter Dominique. She's the eldest child of Carl, 32, Gina's son from a previous relationship.

Carl, James Pickens, Jr., explains, is in between careers and "trying to figure out life. That's about as good as we can put it."

Also keeping James and Gina Pickens grounded: their Christian-based church, which they attend each Sunday.

"It's the solid foundation underneath us," Pickens says. "We weren't expecting (to raise another child); we thought we were done. But this was thrust upon us, so we couldn't say no. It's been a challenge, but all in all, it's been a blessing."

Steve Marsi is the Managing Editor of TV Fanatic. Follow him on Google+ or email him here.

Tags: Grey's Anatomy