The latest season of Project Runway premiered November 14.
For those that need a quick refresher, though, People has provided the following designer profiles on this year's cast:
Christian, 22
Why will viewers be talking about you this season?
I'm the youngest on the season. I don't have as much industry experience, but I think I have just as much design experience with high fashion working with the designers that I have. Maybe that's shocking.
Tell us about your hair.
I have what is called a bi-level haircut. Basically one side is very, very short. I've had this particular little thing for about a year. Before that I had a Mohawk. I look back on it, it was so awful. It was really, really big and it looked like a big bird.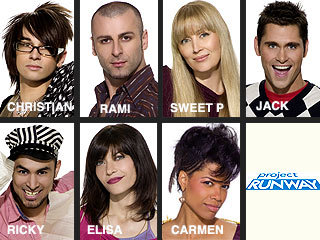 Rami, 31
Have you ever heard that you look like Nigel Barker from America's Next Top Model?
I've actually heard that somewhere. I don't think I look like him. I guess if two guys shave their heads, suddenly they look alike? [Laughs] But I will tell you it's a compliment because I think he's a good-looking man. I'll take it.
You've already dressed a number of A-list stars. Do you have a dream celebrity to outfit?
Oh, without a doubt Cate Blanchett. First of all, she's very, very amazingly talented. She's a beautiful person and she constantly exudes glamour on the red carpet. In terms of a woman who expresses elegance in the way she dresses, she is definitely the right person for me.

Elisa, 42
Fill in the sentence. I'd never be caught dead wearing . . .
Something that was too tight. I don't believe in discomfort. I think that's really important. If you're thinking, like, bad clothes, then I'm most likely not to be caught dead in wool. I'm allergic to wool. I itch all over.
What makes you relatable and buzzworthy?
I hope some population out there, young or old, that relates to feeling awkward and knows that if you just persevere, it really will be OK. It really will be all right.

Click here to read all the Project Runway profiles.

Matt Richenthal is the Editor in Chief of TV Fanatic. Follow him on Twitter and on Google+.

Tags: Reality TV