Despite an alliterative name and not being "an avid dater," Sheena Stewart came close to capturing Brad Womack's heart on The Bachelor.
However, the 23-year-old Internet marketing exec from Walnut Creek, Calif., was sent packing during The Bachelor's 11th season hometown visits.
In the aftermath of her ouster, Sheena Stewart talked to Reality TV World about her experience on the long-running reality show and its hunky star.
Reality TV World: How were you cast for The Bachelor?
Sheena Stewart: Great question. I had never applied to The Bachelor before and had never thought about going on reality TV. I was sort of at a point where I really wanted a more meaningful relationship and of course I'm at a point where I at least wanted to start to look for the right person I can settle down with.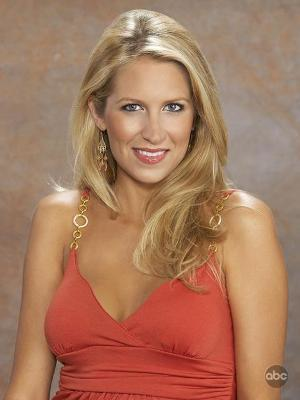 It so happens that I had worked late, got home alone on a Friday, drinking a glass of wine and watching ABC. I hadn't really watched The Bachelor - it was Officer and a Gentleman at the time - and I was kind of catching up and watching some episodes. At the very end I saw [Andy Baldwin] propose to [Tessa Horst], and I was like, "God I want that!" It was sort of a cheesy moment, but I was on the phone with my really good friend from New York, and she was like, "You should apply."

So on a whim, I submitted a photograph. I got a call the next day. So I never went to any major casting calls or anything, they were almost finished casting. [Casting] was like, "Oh we'd like to meet you as soon as possible." From that point, I just filled out the paperwork and went through the process. Before I knew it - it was like a whirlwind - I was there. So I didn't have a whole lot of time to think about it.

Reality TV World: You just kind of touched upon this, but what were your expectations going into The Bachelor?

Sheena Stewart: I am a hopeless romantic. I think along with a lot of other women I sort of want the fairy tale. So I thought why not take a chance. At first I was really skeptical and my roommate talked me into it. She was like, "You have nothing to lose at this point. You can take off work at this point. Just sort of take a vacation and find out if maybe something is there." So I really had nothing to lose.

Reality TV World: What were your first impressions of Brad Womack?

Sheena Stewart: [laughs] My first impressions of Brad... Well we drove up in the lino [during the premiere], and I was so nervous because I was the first girl that was supposed to get out of the limo and meet him. I could see [Brad Womack] in the distance standing there in his suit.

Continue reading Reality TV World's interview with Sheena here ...

Matt Richenthal is the Editor in Chief of TV Fanatic. Follow him on Twitter and on Google+.

Tags: The Bachelor