Chace Crawford has had the opportunity to kiss three of his female co-stars on Gossip Girl, but the 22-year-old actor has another in mind.
"I'm thinking Lily van der Woodsen," Crawford jokingly said in an interview with Fuse TV, referring to the character played by Kelly Rutherford, the mother of the show's lead female character, Serena.
"I'm eyeballing that. That would be great. The older woman."
For those wondering who exactly Crawford plays in Gossip Girl, the actor appears as Nate Archibald, a teen heartthrob who is involved with Blair Waldorf (Leighton Meester) in an on-again-off-again relationship.
Nate is secretly smitten with Serena (Blake Lively), however. He has made his fair share of bad decisions, but "has a little bit of moral backbone."
"It's good to play that," Crawford said. "[He is] so conflicted."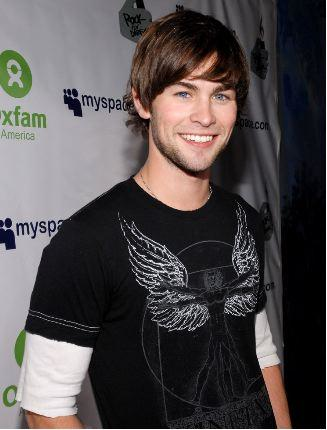 Initially, Chace Crawford did not think much of Gossip Girl, admitting that when he first read the script, he thought it was just "typical teen stuff."

"But after it's been going along, there's such a big ensemble cast, and everyone's starting to develop," he said. "More recently, the show's kind of been getting its legs, getting more in-depth and [its] like a family on set, so it's been really great."

While Gossip Girl is Chace Crawford's first TV series, he has appeared in a few film productions, including Loaded and The Covenant.

Next year, he will be appearing in an independent horror/thriller flick called

She Lived

, starring opposite Haley Bennett (

Music & Lyrics

).

"It was really fun," Crawford said of working in the film. "Haley Bennett plays this sort of psychologically disturbed [character]. She thinks she's thinks she's schizo, but it turns out her parents sold her soul to the devil. It's like a cultish-type thing."

Between working on TV and film, Chace Crawford prefers the latter.

"I haven't done too many of either, but I really do like working on films more," he said. "There's more freedom. Television feels a little bit restrictive, so far as the dialogue, and there's really no improv. The scenes are a little bit shorter... So, films are kind of where my head's at... in the future. I love the show, though, hopefully that lasts."

That said, he is planning to spend the coming year furthering his career.  However, there is one thing that he intends to avoid.

"I eat a lot of McDonald's. It's a problem," he said. "Big Mac is my favorite. I try to eat healthy but they get me."

Steve Marsi is the Managing Editor of TV Fanatic. Follow him on Google+ or email him here.

Tags: Gossip Girl