Deanna Russo portrays Logan Armstrong on The Young and the Restless.
But it's safe to assume that the actress hasn't been named Babe of the Month by Playboy for this role.
Readers of that publication are more likely to recognize Russo from a commercial for Axe body spray. In the deodorant ad, she plays a girl driven by Axe's potent scent to rip her boyfriend's father's clothes off.
"I was in a drugstore recently, and this couple was looking at Axe products," she told the magazine. "As I walked by I gave them a bow chicka wow wow. They were not amused."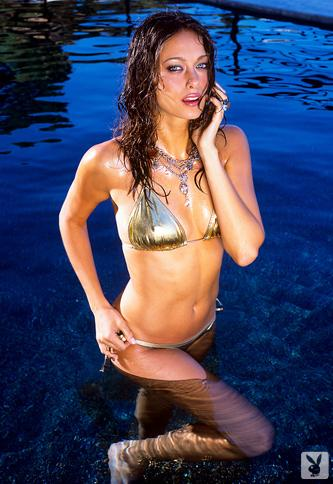 Deanna Russo stars on The Young and the Restless. And in the fantasies of many men. 

Aside from trying to make consumers laugh, Russo can be found in a trio of horror DVDs: Rest Stop, Believers and Ghost Voyage.

"I pretty much die in everything," she said. "I won't say whether I come back to life."

Overall, it's hard to criticize anything on her body. But Deanna said ever since she watched Kill Bill with her mother, she' been unjustly critical of her feet:

"There are scenes where you see Uma Thurman's feet. They're not pretty. My mom said, 'Ugh, she's got feet like yours. Couldn't they have used a foot model?' Thanks, Mom."

Matt Richenthal is the Editor in Chief of TV Fanatic. Follow him on Twitter and on Google+.

Tags: Soap Operas