During Season 3 of Grey's Anatomy, Dr. Preston Burke, played by Isaiah Washington, suffered a gun shot wound that left him bedridden and out of commission.
In came Brooke Smith's Dr. Erica Hahn, an old rival and cardiothoracic surgeon at neighboring Mercy West, who substituted for Burke at Seattle Grace. While Smith loved the role as Hahn, she was never expecting it to become a permanent gig.
"I didn't really think it was going to work out," Smith said.
However, things took a different turn when ABC decided not to renew Washington's contract. With the actor off the show and his character out of Seattle Grace, Brooke Smith was called back to not only to reprise her role as Erica Hahn, but to act as the hospital's new head of cardiothoracic surgery.
Apart from it being a full-time job, Brooke Smith decided to give Grey's Anatomy a go because it gives her the chance to explore a character for a longer period of time.
"When I work on something that has a beginning, middle and end, I can create an arc. With Dr. Hahn, I need to figure out who she is," Smith said.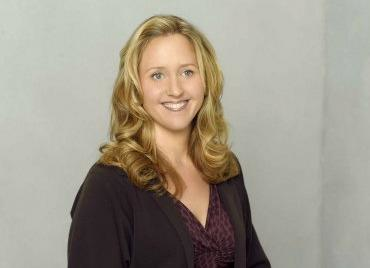 Brooke Smith, the newest full-time Grey's Anatomy cast member.

That said, the 40-year-old has been busy doing research for her role, including watching heart surgery at a Los Angeles hospital and enlisting the help of the real surgical nurses who are assigned to the operating room on the show.

"It really stressed me out a lot," she said. "I didn't go to medical school. I have no idea what it really is to be a surgeon and yet I have to act like I'm really good at it."

Fans, however, will have to wait a little longer before seeing Brooke Smith and the rest of the Grey's Anatomy cast at work, as the WGA strike has caused production to shut down on the show for an indefinite period of time.

"I am sort of out of work," Smith said, noting her ironic situation. "I thought for the first time, I am going to have stability. That lasted for almost two months."

On the upside, Smith believes the strike will end soon.

"I am ready to go back, already," she said.

Steve Marsi is the Managing Editor of TV Fanatic. Follow him on Google+ or email him here.

Tags: Grey's Anatomy