Grey's Anatomy Fans Petition for Show Changes
by Steve Marsi at .
Have you heard about the online petition that's been sent to ABC and Shonda Rhimes?
Disgruntled fans are demanding "something to be done to fix the mess [the show] has become." They've apparently become disheartened by "dark and depressing" story lines - and the 400 people who have signed the document (at the time of this posting) are meticulous in describing their problems with the show.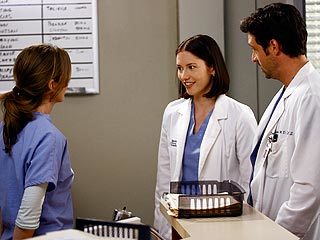 "The most affected would have to be Derek," the petition reads. "In season 1, we were introduced to the perfect man. He was that guy that everyone wanted to find, everyone wanted to be with. Now he's a shell of that man. The fans are wondering how someone who would always show up, someone who called Meredith the love of his life, who understood her and wanted a lifetime with her became the man he was on our screens January 10, 2008."

(Many on the staff of Grey's Anatomy Insider would point out how difficult it's become to date the self-involved, wishy washy Meredith and wonder what, exactly, Derek did wrong on the aforementioned date, considering his previous warnings and Meredith's reaction to his house plans).

The petition writers, profoundly, ask: "WHO is McDreamy? A question none of us should be asking four seasons into a show."

In short, petitioners explain the reason for their protest as follows:

"We want to know that we're valued, that our feelings and opinions do matter to the people who run the show. We would like to stop feeling alienated and start to feel like they are actually writing for us."

Do you agree with these complaints? Do you think Derek has become lost as a character, or has he simply been forced to adapt to the ever-wavering Meredith? As always, discuss it all now in our

Steve Marsi is the Managing Editor of TV Fanatic. Follow him on Google+ or email him here.

Tags: Grey's Anatomy
From Around the Web