Kimberley Locke has a new man in her life. Except he isn't that new.
The former American Idol singer and Celebrity Fit Club trainer Harvey E. Walden IV are dating. But he isn't her boyfriend yet, Locke insists.
"He's not officially my boyfriend," Locke said of Walden IV, who is currently in the midst of a divorce. "[His divorce] is why we're not a couple yet. That is my rule. Whether you're separated or married — whatever — I would like it to be cleared up. Until then we can hang out together and have fun together."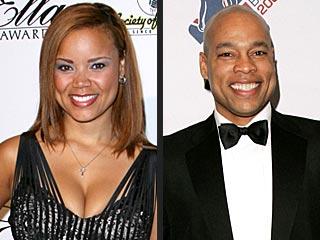 Locke also says the romance didn't begin until after the reality TV cameras stopped rolling.
"We worked out on the show together for four months and never even said anything to each other," she explained. "I thought he was mean. I didn't want him to be mean to me, but then after the show was over and I saw him outside of work, he was really nice."