Kristy Lee Cook, Angela Martin, Others Headed to Hollywood
by Matt Richenthal at .
American Idol fans know what to expect from the first few episodes of their favorite show.
The initial round of American Idol auditions result in a couple standout voices, a few attractive faces, many untalented hopefuls desperate for attention - and, of course, a slew of inspiring, golden ticket-waving scenes that involve shrieks and tears of joy.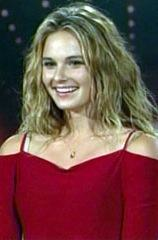 Fortunately, last night's premiere involved a solid mix of the terrible and the talented. Here are a few names to remember that got their tickets to Hollywood stamped:
Kristy Lee Cook (pictured)
Angela Martin (whose daughter was diagnosed with Rett Syndrome)
Chris Watson (who has lost over 200 pounds; he's the Mike Huckabee of the group)
Melanie Nyema
Junot Joyner
Jose Candlaria
Of course, there were also a few singers who took advantage of the airtime to weasel into the judge's room and serenade viewers with original, awful songs.

Take Milo Turk, 39, of Absecon, N.J. Despite being 10 years too old to be eligible for the competition , he sang "No Sex Allowed."

No sex allowed/I don't want to be a part of your crowd/And if you don't like it, get out of town

Then there was Paul Martarano of New Hope, Pa., who wrote an unnamed love song for Paula Abdul:

I broke into her house when she wasn't there/Took off all my clothes and tried on her underwear

Lovely.

Matt Richenthal is the Editor in Chief of TV Fanatic. Follow him on Twitter and on Google+.

Tags: American Idol
From Around the Web