We apologize for the lack of episodes guides last week. A key member of our staff was on vacation.
He's been rightfully reprimanded for the transgression - and we now present a recap of your favorite soap operas from last week: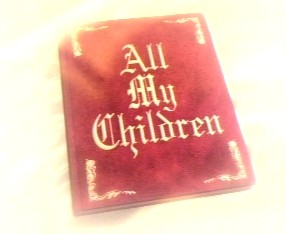 All My Children
: Kendall tried to convince Zach that he wasn't responsible after Hannah jumped off a cliff into the river below. Colby was crushed when Sean told her that he had slept with Hannah. When Greenlee wanted to make love, Aidan was consumed by guilt over the fact that he had slept with Kendall, and Kendall feels guilty about having slept with Aidan.
Aidan knocked out an ailing Quentin, the homeless vet who helped rescue Greenlee, then took him to the hospital. At Joe's request, Dr. Angie Hubbard arrived to help with Quentin's case. Tad was surprised to see Angie. Annie worried about Ryan's sudden strange behavior.
Ryan decided to sell his Cambias assets, offered to help Richie find a bone-marrow donor (but warned him to stay away from Annie) and kissed a surprised Kendall. Adam was furious when Krystal renewed her wedding vows with Tad. Erica met a mysterious man named Marshall.
As the World Turns: Meg refused to press charges against Craig after Paul told Margo that Craig attempted to drug Meg (to kill her unborn baby). Rosanna had a dizzy spell when Craig walked out on her. To settle the score with Dusty, Lily wrote Chris a note telling him that Emily was once a hooker.
Chris also learned that Emily slept with Craig on New Year's Eve. After Dusty had an encounter with a mystery person, Lucinda found an unconscious Emily on the hospital floor beside Dusty, who had been murdered. A puncture wound was found on Dusty's body. In the hospital, Holden wiped Lily's (she accidentally overdosed) prints from a syringe that she used to inject herself with the drugs that she stole.
Dr. Hearn advised Barbara to tell her family that she has oral cancer. Carly realized Parker tried to frame Sam for stealing money that she found in Parker's possession. Gwen and Will rightly worried that Sofie is getting too attached to baby Hallie.
The Bold and the Beautiful: Donna told Katie that she doesn't want to break up with Eric, even though Stephanie cleared Stephen and Storm of her shooting. Donna arranged for Eric to catch her making out with Jake to ''prove'' that she's addicted to sex. After seeing Brooke with Nick, Taylor accused Brooke of getting Bridget to implant Taylor with Brooke's eggs during Taylor's in-vitro process.
After smelling alcohol in Taylor's coffee cup, Brooke snatched baby Jack, took him to Nick's office and told him that Jack's in danger because Taylor is drinking again. Taylor warned Brooke to stay away from Nick and baby Jack.
Days of Our Lives: Bo and Roman burst into Stefano's mansion with a search warrant after E.J. told them about the secret laboratory ''hospital room.'' While Stefano said he had nothing to hide, Hope and Marlena sneaked into the laboratory and found John lying in a bed. Marlena realized that something was wrong with John, who has been programmed by Stefano's doctor.
Lucas was in shock when the police brought in his new cellmate -- none other than Stefano. E.J. panicked when Stefano called and said he was sending a chauffeur to bring E.J. to the jail for a chat. E.J. worried that Stefano is plotting to take baby Johnny away from him and Sami. Crystal and Rob kidnapped Belle and Claire.
Belle was hospitalized after Rob knocked her off a dock into the water. Belle was devastated when Philip said Crystal and Rob have Claire. Chelsea panicked when Ford's father, Crawford, said the sorority girls would pay if they harmed Ford (he's dead).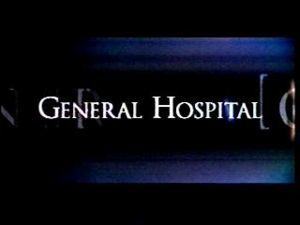 General Hospital

: Elizabeth broke a window and raced back into her burning home to rescue baby Jake. Spinelli, Logan and Johnny learned that Lulu was being held captive in a monastery. After breaking a hole in the stone wall of the room she was in, Lulu ended up in a tunnel where she ran into Johnny -- then the two became trapped in the catacombs of the monastery.

While suffering another rage episode, Nikolas confronted Joe, a man with a bomb strapped to him who threatened to blow up the hospital if someone didn't help his ailing pregnant wife. A nurse, Nadine, was able to calm Nikolas, who decided to check himself into the hospital.

Sam and Jason, who arrived after learning Jake was hospitalized, tried to calm Joe. Scott ordered Lucky to shoot Joe, but he couldn't because Jason was in the way, and if Joe took his finger off the detonator, the bomb would go off. Sonny proposed to a surprised Kate. Robin learned she's pregnant.

Guiding Light: Frank said he'd help Coop, who admitted starting the trailer fire that caused Bill's blindness. Figuring Coop would get a slap on the wrist for causing the fire, Bill picked up a can of gasoline after Dinah left him alone. Bill wants revenge against Coop. Cassie convinced Jeffrey to let Will stay at the cabin with her and Josh for the night after Jeffrey and Josh told her that Will killed Alonzo.

After Gus and Natalia said they were going to elope, Ava got Olivia to use her heart condition as an excuse to keep Gus from getting married. Natalia agreed to postpone her and Gus' marriage plans after Olivia told them she's dying. Over the phone, Reva made Jonathan promise that he wouldn't come to Springfield. To get Harley away from Cyrus so Marina could make Cyrus realize that she's the woman for him, Remy lied to Harley that Phillip had been seen in New York City. Cyrus followed Harley to New York and helped her through another panic attack.

One Life to Live: Marcie was arrested after Michael convinced her that they had to hand Tommy over to Todd. In jail, Marcie was upset to see Gigi, who was arrested for aiding and abetting Marcie while she was on the run from Todd and the law. After Shane asked Viki for help, she paid Gigi's bail and tried to help Marcie's case. Todd and Blair took Tommy (now called Sam) home with them. Blair made it up to Starr, who was upset everyone forgot her 16th birthday because of Sam's arrival. Dorian made sure that Charlie missed a lunch date he arranged with Jared. Dorian also told Charlie who Viki really is and about Viki's connection to the Buchanan clan. Natalie and Jessica urged Viki to find Charlie.

Nora was upset when a judge gave Bo legal guardianship of Lindsay. Nora accused Lindsay of faking her past mental breakdown. Natalie caught Jessica (pretending to be Tess) kissing Jared. Rex learned his family tree is very small.

The Young and the Restless: Gloria told Kevin that she and Jeff were eloping to Las Vegas, but when she gets back, she plans to set Jeff up on murder charges. After Nikki agreed to marry him, David talked her into selling NVP to Victor in order to get him out of their lives. Victor later rejected Nikki's offer, so the two will have to duke it out in court over the property and her material assets.

J.T. was thrilled when baby Reed was taken off his ventilator. Jack told Sharon that he arranged to tell Gloria's lawyers he was giving her a share of John's estate. Brad, who followed Sharon and Jack to Chicago, was hurt when Sharon said she never loved him, just needed him.

After breaking off their friendship, Sharon and Brad said goodbye. After a ''Free Jana Hawkes'' campaign, Heather told Kevin she dropped the criminal charges against Jana. Jana was released from jail. Maggie told Paul that Heather needs time to accept that he's her father.

Matt Richenthal is the Editor in Chief of TV Fanatic. Follow him on Twitter and on Google+.

Tags: Soap Operas