It's been 45 years since General Hospital began dispensing heavy doses of drama to TV viewers. Since 1963, ABC's longest-running daytime series has documented the trials and tribulations of Port Charles' citizens, carving an unprecedented television niche with intrigue and illness — long before ER, House and Grey's Anatomy.
"You don't get to 45 years just because you're lucky," executive producer Jill Farren Phelps said as the cast and crew celebrated GH's April 1 birthday with punch and cake on the show's hospital set at ABC's Prospect Studios.
Leslie Charleson and Jane Elliot reminisced about playing feuding sisters-in-law Monica Quartermaine and Tracy Quartermaine for over 30 years.
Since 1977, Charleson's cardiologist character has given up a child for adoption, become a hit woman, been held hostage and battled cancer.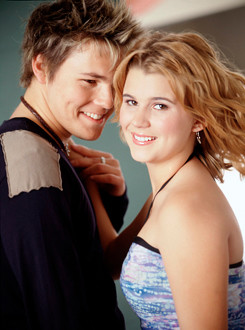 General Hospital characters have been through it all — often more than once.

"We have such history," Elliot said. "Births, deaths, marriages, divorces, birthdays, that we've shared. When we look at each other on camera, you sometimes can't tell if Monica and Tracy are responding to each other or if Jane and Leslie are responding to each other. It's not the characters but the history that's there."

"The two of us had a fight scene the other day, and there was a gentleman who was there to serve us papers," said Charleson, who's been on the show for 31 years. "He informed us as we were standing there that he had done exactly the same thing 17 years ago to the two of us. You don't get a history like that anywhere else."

Stars such as Demi Moore, John Stamos, Ricky Martin and Rick Springfield got their start on General Hospital. A-list fan Elizabeth Taylor famously guest-starred as the malicious Helena Cassadine at supercouple Luke and Laura's wedding in 1981, one of television's most popular moments, attracting 30 million people.

"We were all kind of scared to work with her, but she came on and she was so excited to be with us," Sandy Masone, a sound engineer who's worked on the show for over 30 years, said of Taylor.

"She was so gracious. She even invited us back to her house for a party."

Those days, however, are over.

The number of viewers now averages under 3 million, less than a third of the 11.8 million who typically tuned in during the year of Luke and Laura's wedding.In an effort to stay relevant, the daytime soap opera has begun using computer-generated imagery.

Kelly Monaco's character, Sam McCall, was recently seen dangling on the edge of an unfinished bridge hundreds of fake feet above a fake raging river after being kidnapped by the Text Message Killer, a mysterious murderer who'd been stalking Port Charles residents for months.

"I think we're walking a fine line," said Phelps. "I'm very proud of all of the stuff General Hospital is doing, especially the CGI. It's very cutting edge. We're trying to give a new look to this medium but without putting off our audience and making them wonder, 'What have you done to my show?'"

Like other soaps, General Hospital has also turned elsewhere for eyeballs.

A popular HIV-positive character named Dr. Robin Scorpio, played by Kimberly McCullough, keeps a blog and co-starred in "Night Shift," a 13-episode SOAPnet spin-off that debuted last year and is now available on DVD.

Robin Scorpio will soon give birth on General Hospital as well — a first for an HIV-positive daytime TV character.

"I'm always looking to see how to get more people to watch our soaps," ABC daytime President Brian Frons told the AP. "As part of that, later this year, General Hospital will finally premiere in France. For us, it's not just about viewers on the broadcast network, it's about viewers around the world."

Canceled soaps, such as Another World and Passions, haven't been replaced with new shows. The same thing could be said for the genre's eroding viewership.

So what's the prognosis?

"Maybe it'll be animated in 45 years," Frons said.

Matt Richenthal is the Editor in Chief of TV Fanatic. Follow him on Twitter and on Google+.

Tags: General Hospital