The return of Grey's Anatomy is a little more than a month away and even more Grey's Anatomy spoilers are starting to surface regarding its new episodes.
Last week, TV Guide's Michael Ausiello has the latest on what we can expect for Meredith and Derek, as well as some interesting cast notes (and speculation).
This week, the insider has tracked down some scoop regarding another fan favorite, star-crossed Grey's Anatomy couple - the often maligned Gizzie.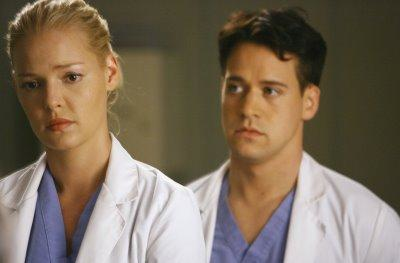 Be forewarned if you want to be totally surprised when Grey's Anatomy comes back to ABC Thursday, April 24. Follow the jump if you want to learn a little bit more about George and Izzie and more from the world of Grey's Anatomy spoilers ...

Question

: That's great about Mer/Der getting back together for good this season, but what about Seattle Grace's other star-crossed duo â€" you know, Gizzie?

Ausiello: It's with overwhelming joy deep regret that I inform you that Gizzie is no more. Sources confirm that the ill-conceived plot twist suffocated to death under the weight of its own absurdity shortly after the writers returned to work last month. A private memorial service was held in early March at the home of Shonda Rhimes. In lieu of flowers, fans are asked to keep the "thank gods" to a low roar ...

Question: Got any clue as to what's going to happen when Addison (Kate Walsh) returns to Grey's Anatomy?

Ausiello: I've actually got a big clue, and here it is: Addison Montgomery just so happens to stop by Seattle Grace on the same day a patient is admitted to the hospital with a neo-natal-type emergency. What are the odds?!

Steve Marsi is the Managing Editor of TV Fanatic. Follow him on Google+ or email him here.

Tags: Grey's Anatomy, Spoilers