Monalisa became known as Shy on Flavor of Lov.
Unfortunately, her exposure on the reality TV dating show ultimately stained Shy /Â  Monalisa with a reputation as the loud-mouthed and bad-breathed instigator who tried to win Flavor Flav's heart but to no avail.
On the other hand, her recent elimination has liberated her from all the drama in the mansion and allows her to return to her "true self."
According to Shy, everything she did on the show was just an act.
Although she lasted seven weeks on Flavor of Love, her time was not enjoyable. In fact, she had to deal with the negative energy and distance herself from her true personality as she took on the name given to her by the great Flavor Flav.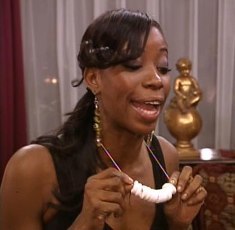 Shy / Monalisa: Never a dull moment.

"Basically, I am a true actress and I took that character in and became Shy. I had a little something of me, but I became that character. I was confused. I was getting mixed signals from Flav... Shy is the negative character of who I am and I made that character live. I tapped into a character instead of showing my true swagger," Shy explained.

"It was a really hellish experience for me. I had to shake the Shy character off. It took me like two months," she added. "I knew what I had to take care of with my teeth even before the show. I have never smelled my breath like the way he says it, and no one else I'm around has. I think it came from Bee-Ex and Hotlanta starting the rumor at the roast. That's when everything about my breath kicked off. He took it all the way to the end and that's some real gutter stuff.  I'll go out and be the girl with the stinky breath. That was Shy. I'm Monalisa."

Matt Richenthal is the Editor in Chief of TV Fanatic. Follow him on Twitter and on Google+.

Tags: Reality TV