Dancing With the Stars Contestants Criticize Derek Hough, Shannon Elizabeth
by Matt Richenthal at .
Following their tirade against the judges Monday night - despite receiving a flurry of 8's - Derek Hough and Shannon Elizabeth were the subject of harsh words from others associated with Dancing with the Stars last night.
"I think it was a little bit in bad form," Len Goodman said of Hough's reaction. "I learned long ago, 'Never knock the competition,' but in his defense, he's young, and we all say things in the heat of the moment."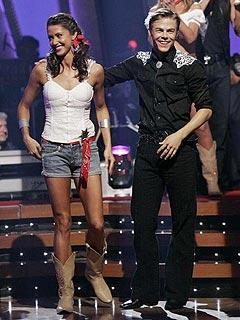 Regarding Elizabeth's flood of tears, Bruno Tonioli added:

"Sometimes you get a little wound up, but the Niagara Falls, we had that when we gave her an eight! If we give her a five, what are you going to get? Commit suicide?! Hari-Kari?! Get over it!"

Even Cristian de la Fuente said of Hough: "He should probably learn to stay quiet. It's one thing to be angry at the judges and another thing to start talking about the other people here."

Did you think Hough and Elizabeth were out of line with their reactions?

Matt Richenthal is the Editor in Chief of TV Fanatic. Follow him on Twitter and on Google+.

Tags: Dancing With the Stars
From Around the Web