Holly Durst found it surprising that The Bachelor: London Calling star Matt Grant took her on a do-or-die 2-on-1 date after she thought they had pretty good chemistry following a previous 1-on-1 date. But so it went.
Matt Grant's reasoning was later revealed when he didn't give her the 2-on-1 date's rose, thus eliminating the 25-year-old children's book author from Suffield, Ohio, during Monday night's fourth episode of this 12th season of The Bachelor.
Holly Durst talked recently to Reality TV World her elimination and how she thinks that playing the "safe card" ultimately cost her any chance ...
Reality TV World: ABC billed you as a children's book author on the show.  Can you talk a little bit about that? How did you get into it? Is it your full-time job? Do you write under a pen name?
Holly Durst: I started to get into children's books after I left Ohio - I moved to L.A. - and I really missed the children I used to babysit for. I looked for a book to buy them explaining why I had to leave, but couldn't find one that was what I wanted. So I thought, "You know what? I'm just going to write one myself."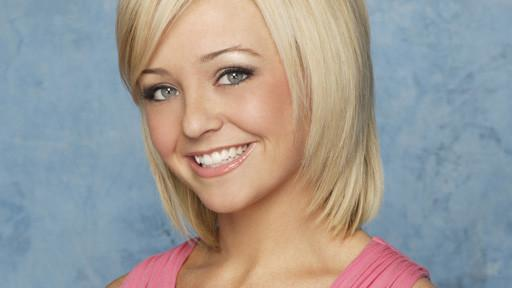 Holly Durst said goodbye to Matt Grant and The Bachelor Monday.

Reality TV World: Were you surprised Matt Grant chose you for the two-on-one date since he took you on a one-on-one date the previous week?

Holly Durst: Very surprised. Honestly I thought, "Maybe he just wants to spend more time with me and it's an easy way to get rid of somebody else."

Reality TV World: That leads into my next question - you seemed confident that you'd receive the two-on-one date's rose instead of Marshana. Why?

Holly Durst: I thought since him and I had spent so much time together - we had already kissed - and Marshana hadn't spent any one-on-one time with him, had not received a kiss. I thought for sure that I was staying.

Reality TV World: Do you regret feeling so confident and think you could have done more to show Matt Grant how much you cared for him?

Holly Durst: In the third episode, I got upset because I started seeing him interacting more with the girls. I hadn't seen that up until that point.  At that point, I started to put a wall up and I think I started to back away a little bit. I wasn't really into the conversations that him and I were having. It just got really hard. I was confident going into the [2-on-1 date] because I thought, "There's now way that I'm going home." But maybe I was a little overconfident.

Continue reading this article here ...

Matt Richenthal is the Editor in Chief of TV Fanatic. Follow him on Twitter and on Google+.

Tags: The Bachelor