On Gossip Girl, Leighton Meester plays Upper East Side penthouse princess Blair Waldorf. But in real life, Leighton is a lot more down to earth. In her recent chat with People, she talked about music, Gossip Girl fans and co-stars, media attention and (of course) clothes...
Q: What did you miss most while you were away during the strike?
Leighton Meester: I missed the people, the cast and the crew and the producers. Everyone is amazing. Also, [I missed] New York. I love New York. I came here a couple times but I'm getting back into the swing of things. New York is such a wonderful city.
Q: We heard you've been working on an album. Can you tell us about it?
Leighton Meester: I'm not signed to a label or anything. And I'm not really worried about that right now. I'll probably be done in June so I don't know when I might release it. It's a collaborative effort. I write the lyrics and I work with my friend — a lot of the actual music we've made together and some of them are borrowed from other people that have given us music.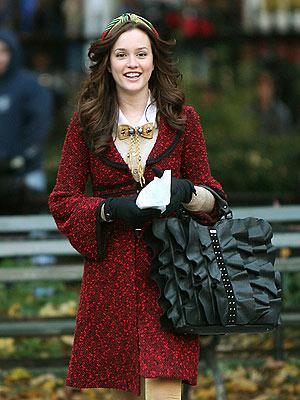 Leighton Meester as Gossip Girl's Blair Waldorf.

Q: Can you describe the sound?
Leighton Meester: It's very pop but not too bubblegum. It's just fun. I have a million things to write about. I'm having fun just exploring and experimenting. I'm not going too moody and sorrowful. It's more fun music. There are infinite possibilities. We're such a good team. It pretty much doesn't feel like work. It's fun and easy. It's one of the most exhilarating things I've done.

Q: What do you think of all the fans that come out to watch you shoot your scenes?
Leighton Meester: We love the fans of Gossip Girl. They're the reason the show is on. It's cool to have them come and show their appreciation. They're usually really cool people.

Q

: What about the paparazzi?

Leighton Meester

: If you're on the streets of New York, there are going to be a million people anyway. There's a certain degree of distraction coming your way regardless of what you do. It can be distracting but we try to tune it out. Some of them are respectful and keep their distance. The only thing is with the sound — it really is hard on you when you have to muster up the same performance again in voice-over because the shutter sounds of their cameras are going off. If they don't take pictures while you're actually shooting the scene, that's fine. And they're there because we're working. They're not stalking us in real life, which is kind of nice. And there's no way around it. It's not like we're going to be like, "Let's move to Vancouver."

Q: What do you do between scenes or during your downtime?
Leighton Meester: Between takes there's time but never really down time. If I had down time, I would go back to my trailer and sleep. Pretty much you just have to go thaw out in your trailer because it's so cold. … But you have to get makeup and hair. Then you go and get dressed, which is a whole thing, on this show, especially. Then you have to get wired. Then you have rehearsal and blocking. In between they have to touch you up. There are a million different things. There's not much downtime. When there is, I take my dog for a little walk. I take him to the set so he has some human interaction during the day.

Q: What's the topic of discussion in between takes?
Leighton Meester: We're talking about the scenes. But we have our inside jokes and our funny moments. We laugh and sing. We sing every single thing under the sun — but usually whatever is on the radio in the morning that we hear on the way to work. We should do a musical.

Q: Any plans to sing on the show? Would you do it?
Leighton Meester: I imagine I would.

Q: What about clothes?
Leighton Meester: That's a huge percentage of our conversation. You have to say the word "cute" about five times when you enter the set. "Oh, that bag is so cute. Oh, that headband is so cute." Everybody comments on each other's clothes. Even the extras really look great. Some of it is wardrobe but some of it is their own stuff. It's New York. You have to keep up.

Q: Tell us how you get along with the rest of the cast.
Leighton Meester: We have such a great rapport. We spend so many hours together. You'd think we'd be sick of each other but we have fun. We're always like, "What are you doing tonight?"

Q: What's next on the show?
Leighton Meester: There's a new cast member (Michelle Trachtenberg) who comes in and stirs things up. That will be interesting. She's definitely coming in for a couple of episodes. [She causes trouble] for pretty much everybody. She's just a bad girl. There will be depth to this character.

Q: What else?
Leighton Meester: Jenny Humphrey (Taylor Momsen) is turning a little Blair-like. It's so not her. She has to battle with herself whether she's good or evil. She gets in trouble with her family — possibly with the law.

Q: Who's the shyest?
Leighton Meester: None of us are shy with each other, but to the outside world, I'm probably the shyest. It takes a minute to let loose, open up. But I'm not mean or anything.

Q: Who's the biggest flirt?
Leighton Meester: Oh, Connor Paolo [who plays Serena's brother, Eric Van der Woodsen]. He's the biggest flirt. He's 17 so I think it's all in good fun. But he's definitely a little ladies' man. He's very smart and mature for his age.

Q: How are the other guys — Chace Crawford, Penn Badgley and Ed Westwick — handling their heartthrob status?
Leighton Meester: Young women are watching the show and they're the eye candy. They're taking it well. You can't let it go to your head. And I haven't noticed that yet, but there's still season two.

Steve Marsi is the Managing Editor of TV Fanatic. Follow him on Google+ or email him here.

Tags: Gossip Girl