If you aren't familiar with Neil Diamond, folks, you will be after this night. The finalists are singing two of his songs each, while the judges won't critique them until after the first performance. Can Simon Cowell hold his tongue that long?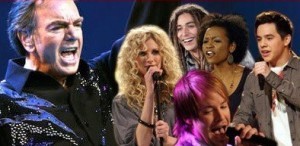 Jason Castro gets us started with "Forever in Blue Jeans." Tempo and song-type fits Castro's style, but we're not fans of the lack of immediate judging. Who will even remember this rendition in an hour?
Up next? David Cook. He responds to Ryan's question about preparing for Neil Diamond week by asking Ryan how he prepared for it. Seems like a prepared segment, as Ryan went right into an attempt at humor by describing how he used to sing in front of the mirror with a hairbrush.
Cook sings "I'm Alive." He's wearing a coat that reads "AC" in the top left; David's initials are "DC." Get it?, rock fans!?
Now Brooke White is singing "I'm a Believer." She's strumming a guitar, she's got a smile plastered on her face, she's trying to bop up and down. We're not buying it. Especially after the "whooo!" she just tossed in. That was really bad.
Back from commercial and Ryan casually strolls down the aisle, talking about how fans can own a piece of every performance, thanks to iTunes. And, wouldn't you know it, he walks right by Playboy model Kendra Wilkinson! No way that was planned. (Don't ask how we knew it was her, please.)
Diamond refers to David Archuleta as "kind of a prodigy." Well, this quasi prodigy sings "Sweet Caroline," causing a certain Yankee fan we know to think even less of him.
It's time for "Hello Again" from Syesha Mercado. Is it just us, or does she look different every week?!? Must be the hair or something.
Quick judge thoughts on round one:
- Simon didn't like any of the performances; Randy referred to Archuleta as the "bomb" and, well, Paula critiqued Jason's second song, even though he's only sang one so far. Ummm.. check it out NOW.
- Jason Castro is back for "September Morn." And, now, the judges do respond right away. Thank goodness. Paula can finally speak her mind about the performance she tried to critique a few minutes ago. Overall, the judges detested this rendition. Ouch.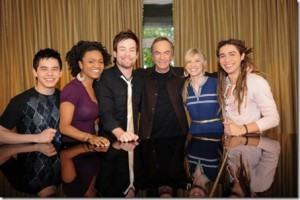 - "All I Want is You," sings David Cook. And all the women out there wish he were singing it to them. Rumors, of course, say he's actually singing to Lacey Schwimmer. But we might be digressing here. The judges love it. Simon calls the performance "brilliant" and Paula said she's looking at the next American Idol. It's the most coherent thing she's said in years.

- Brooke White is up and... ummm... she has lyrics written on her hand?!? We're sorry, but you just can't do that, Brooke. Aren't you supposed to be acting like a professional? The judges enjoy "I Am... I Said," and so did we. But we can't get over the crib notes.

- According to David Archuleta, they're coming to "America." As Kristy Lee Cook proved, the fans do like patriotic songs. Again, Simon essentially points this out. We love that guy.

- Syesha Mercado closes the rushed night with "Thank the Lord for the Night." She's really coming on strong. She deserves to be in the final three. Heck, we'd rank her ahead of Archuleta.

Overall impressions: The night was WAY too rushed. Why attempt to get two songs in for each contestant? They couldn't find great filler? That would be a first for the show. Anyway, Brooke has to go. She has the weakest voice and she WROTE LYRICS ON HER HAND. You can't do that.

Write in and let us know your favorite performer of the night!

Matt Richenthal is the Editor in Chief of TV Fanatic. Follow him on Twitter and on Google+.

Tags: American Idol