Have you recovered from the shock of Michael Johns' elimination yet? For those that still need a dose of the American Idol finalist, here are snippets of an interview he gave Entertainment Weekly:
You looked so completely shocked. Were you thinking that Syesha and Carly had such mediocre performances that for sure you'd be safe?
It wasn't like that. Back there it was me, Kristy, Jason, Syesha, and Carly. I was like, ''Okay, I get what's going on. This is going to be a shocker week.'' I hadn't been in the bottom three before, and everyone is due for that. I didn't think I was going home, though. It just goes to show you that you never know.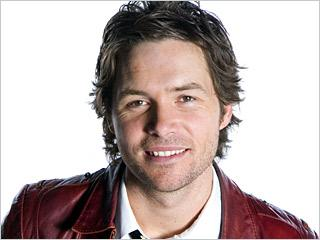 You looked pretty shaken up. Was it hard to compose yourself?
I wasn't, like, destroyed or anything. I probably would have been more sad if I felt I didn't sing the song as good as I could, and if I didn't hit those high notes. There was a moment when I took a really deep breath in and I saw my wife, and she said, ''I love you.'' I just exhaled then. If you re-watch, you'll see I just switched then. I thought, ''Just suck it up. This is the last time you're going to perform on this stage.''

There's a school of thought that some contestants don't want to win American Idol so they're not shackled with that title forever. What do you think?
People said that to me going in, that I don't want to be more than third or fourth. But it hasn't hurt Carrie or Kelly Clarkson. But Jennifer Hudson and Chris Daughtry and Kimberly Locke are fine, too. It doesn't matter where you end up, if you stay true to your art.

Matt Richenthal is the Editor in Chief of TV Fanatic. Follow him on Twitter and on Google+.

Tags: American Idol