Season Three just ended, but here's a look at what we can expect in the next season of The Hills, courtesy of TV Guide:
Boys and Relationships:
For Season 4, expect more, more, more. Lo and Lauren throw a big party in their new pad and invite boys galore. The ever-single Stephanie feasts her eyes on, well, everyone, and Lauren may have a new beau in tow. And as for Audrina and Justin Bobby? They're definitely back on, but as for how hot things will get, Audrina would only say, "[Justin has] always been there for me, and he still is."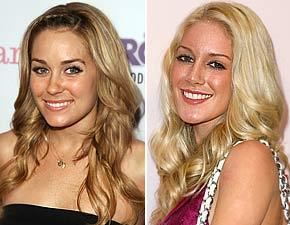 Drama and Frenemies:
Don't hold your breath for a Lauren-Heidi relationship thaw. Despite Heidi's ostensible good-will appearance at Goa, Lauren says she "will probably not" reconcile with Heidi. Ever. And as for the growing tension among Audrina, Lauren and Lo, it's just a part of growing up. Audrina says she knows her new focus on her career has meant that she's not around as much for Lauren. Add Justin to the picture, and you've got a recipe for friendship dissolution.

For Lo's part, she sees the tension as having nothing to do with her, despite her self-described "foul face" when the topic comes up. Next season, expect more from Lo's perspective. "It's disheartening to see me turn into such a bad guy on the show," she said. In Season 4, she promised, "You're going to see the other side of the story. I think people need to remember that it's Audrina and Lauren's relationship that's having problems.... It's not my relationship to muck up."

Careers and the Future:
With Lauren officially working side-by-side again with Whitney, will there be a turf war at People's Revolution? Whitney says no. "I don't like to be alone," she confided. "I'm used to having lots of girls around me all the time, so it's great to have [Lauren Conrad] around." As for her own ambitions, Ms. Port may soon be joining the ranks of Lauren and Heidi with her own line, but details are TBD. For now, designing clothes is simply her "pleasure." Lo, meanwhile, sees herself hosting for 'nets like E! and Bravo, and Audrina has acting on the brain. To Patridge, her just-announced role in Into the Blue 2 is a "stepping-stone" that might lead, she hopes, to a career like Charlize Theron's.

Despite all the plans and drama to come, however, all of it â€" ok, most â€" was on hold during Monday's soirée. For one brief night, Hollywood's young reality royalty lived it up and celebrated the show's success, together.

Matt Richenthal is the Editor in Chief of TV Fanatic. Follow him on Twitter and on Google+.

Tags: The Hills
Want more The Hills?
Sign up for our daily newsletter and receive the latest tv news delivered to your inbox for free!
More From TV Fanatic
All good things must come to an end. In other news, The Hills aired its final episode last night.

The second-to-last episode of The Hills was boring and full of bogus drama. Then again, that's how the show usually is, but this episode more than most.

The Hills' 100th episode was not one of its best. The reason? Well, there are many, but to sum up, it's been about 20-30 episodes too many at this point.
The Hills continues to illustrate why this is its final season. It's clear out of ideas and interesting people.
---