It's safe to say our favorite show is back and better than ever. Below are two questions answered by top TV sleuths Michael Ausiello (TV Guide) and Kristin Veitch (E! Online) about the upcoming episodes of Grey's Anatomy...
Question: Seems like Grey's Anatomy is heading on the right track to greatness again! Any spoilers to confirm this?
Michael Ausiello: Yes indeed. I just found out which two characters will be performing the "major kiss" in the Grey's Anatomy season finale and trust me when I say you will not be disappointed.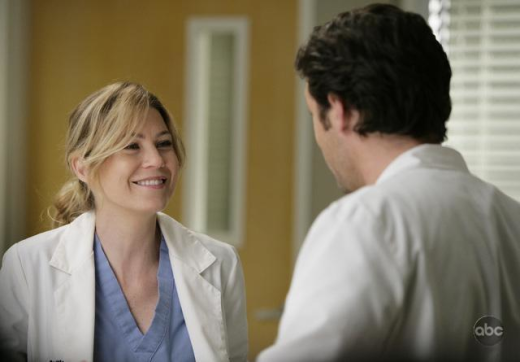 Will it be Meredith and Derek engaging in the unforgettable kiss?

Question: Any Grey's Anatomy scoop involving Hahn and Sloan? They are my new favorite couple.

Kristin Veitch: But isn't she a le...ooker, a looker? Not that there's anything wrong with that! (Wink, wink.) I can tell you that Eric Dane (Mark "McSteamy" Sloan) has a nude scene in the finale. God bless you, Shonda Rhimes! Who he's gettin' naked with I cannot say, but obviously there is gonna be some steam involved. In other Grey's Anatomy news, I'm also told that Ava/Rebecca is actually sick, and that will be a big story line for both Alex and Izzie.

Steve Marsi is the Managing Editor of TV Fanatic. Follow him on Google+ or email him here.

Tags: Grey's Anatomy, Spoilers