Katherine Heigl is at it again.
Call her what you want - the beautiful and talented star always speaks her mind. This time, the actress is not up for consideration at this year's Emmy Awards.
Heigl herself isn't seeking a nomination.
Her reasoning? Grey's Anatomy didn't provide the material this season for her character to produce an Emmy award-worthy performance.
Heigl, who was honored as Best Supporting Actress in a drama last year, has declined to put her name under consideration for a bid.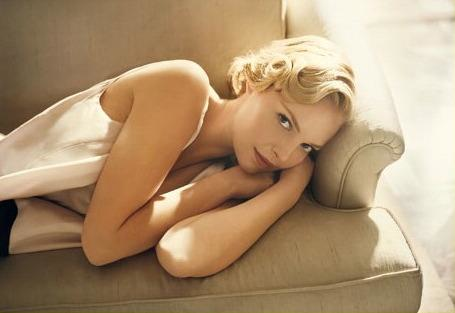 "I did not feel I was given the material this season to warrant an Emmy nomination and in an effort to maintain the integrity of the academy organization, I decided against competing," Katherine Heigl said in a statement.

"In addition, I did not want to potentially take away an opportunity from an actress who was given such materials," she added.

Katherine plays Dr. Izzie Stevens on Grey's Anatomy, which slipped in the ratings significantly this past season but remained a top 10 show.

An after-hours message left by the Associated Press for Grey's Anatomy creator and executive producer Shonda Rhimes was not immediately returned.

Heigl, who shot to box-office success last summer with the comedy Knocked Up, has established herself as one of Hollywood's rare voices of candor.

In a

Vanity Fair

magazine interview published in January, she called the hit film "a little sexist" and said that it painted women as "shrews, as humorless and uptight."

The male characters, she said, were lovable and goofy.

Heigl also was outspoken when Grey's Anatomy castmates Isaiah Washington and T.R. Knight, who is gay, and who ultimately came out of the closet, clashed last year.

Washington's alleged use of a homophobic slur sparked massive controversy, and Heigl was outspoken in her criticism of the actor.

Nominations for the 60th Emmy Awards will be announced July 17.

What do you think of Katherine's statements? We aren't sure if it's a nice gesture to other actresses or an unfair criticism of Grey's Anatomy - but we do know that we're hoping that Ellen Pompeo, in particular, is up for Best Actress this year!

Steve Marsi is the Managing Editor of TV Fanatic. Follow him on Google+ or email him here.

Tags: Grey's Anatomy