Robin Riker stepped into the role of Beth Logan on June 18.
A week before that, the actress sat down with Soap Opera Weekly to discuss the show:
Soap Opera Weekly: How are you enjoying the cast of The Bold and the Beautiful?
Robin Riker: Everybody's been so welcoming. My first day that I arrived, I wasn't even working, I was just showing up to meet the-powers-that-be. John McCook (Eric), who wasn't even working that day — I think he was dropping off some paperwork — came in to show me around and introduce me to people. He spent a good hour chatting and welcoming me.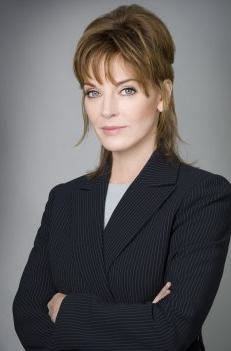 New to The Bold and the Beautiful: Robin Riker.

Weekly: How did you end up getting the part of Beth?
Riker: It was very fun the way I got the part. I was living in New York and doing theater, and I got a call saying that Brad Bell (B&B's executive producer and head writer) was interested in meeting with me for this role. Never having done much soap opera before, I wondered what it would be like, but I was unable to come back [to L.A.] right away.

This was on a Monday, and on Tuesday, my friend had taken me to a ball game. I took out my cell phone to take pictures of the diamond to send to my husband, and I saw that there were two urgent calls from my agent. I had to leave the stands to talk, and the only place that I could find any quiet was in the ladies' room. They said that Brad wanted to talk to me, and I said, "Well, I'm in the ladies' room at Yankee Stadium if he wants to give me a call." (Laughs.)

Two minutes later, the phone rang and Brad said, "I understand we're having a conversation in a funny place," and I said, "Yes." He said, "Do you want me to call you tomorrow?" and I said, "No, I rather dig it that we're talking in the ladies' room at Yankee Stadium!" So we had a 20-minute conversation. I made my very first deal for the one of the very first series I ever did on a pay phone in a coffee shop, so it seemed [to be] in the right realm for me.

Matt Richenthal is the Editor in Chief of TV Fanatic. Follow him on Twitter and on Google+.

Tags: The Bold and the Beautiful