The full cast of Big Brother 10 has been released.
As previously announced, a 75-year old grandfather named Jerry MacDonald is, indeed, on the program. So is Jessie Godderz, a bodybuilder from Huntington Beach, California. He's pictured below in his underwear. You're welcome, ladies.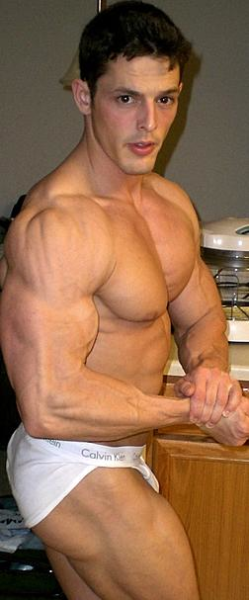 Jessie Godderz is 22 and unashamed of his body.
Here's the rest of the Big Brother 10 cast:
Michelle Costa, a single 28-year-old real estate agent from Cumberland, RI
Steven Daigle, a single 35-year-old geographic consultant and gay rodeo competitor from Dallas, TX
April Dowling, a single 30-year-old finance manager with obsessive-compulsive behaviors from Higley, AZ
Robert "Memphis" Garrett, a single 25-year-old mixologist and party planner from Los Angeles, CA
Dan Gheesling, a single 24-year-old Catholic high school teacher from Dearborn, MI
Brian Hart, a single 27-year-old telecommunication account manager from San Francisco, CA
Renny Martyn, a married 53-year-old hair salon owner from Metairie, LA
Bryan Ollie, a single 27-year-old marketing sales representative from Bloomington, MN
Keesha Smith, a single 29-year-old Hooters waitress from Burbank, CA
Angie Swindell, a single 29-year-old pharmaceutical sales representative from Orlando, FL
Libra Thompson, a married 31-year-old human resources representative and mother of three from Spring, TX
Big Brother 10 premieres on July 13.

Matt Richenthal is the Editor in Chief of TV Fanatic. Follow him on Twitter and on Google+.

Tags: Big Brother