There's probably more to April Dowling than the Big Brother sex tape. But who wants to hear about her hopes and dreams? Not us!
Below is the beginning of Entertainment Weekly's exit interview with April. Following her (unsurprising) eviction from the house, Dowling "conversates" with the magazine on Ollie, Keesha and so much more ...
EW: You know we're going to ask it eventually so we might as well get it out of the way now. Why the heck did you allow a 75-year-old man (Jerry MacDonald) to squeeze your boobs on national TV?
April Dowling: I think that's the #1 question this year for Big Brother. I don't know. Maybe I was hoping to get his heart racing and he'll get called out early in the game. It's all about strategy!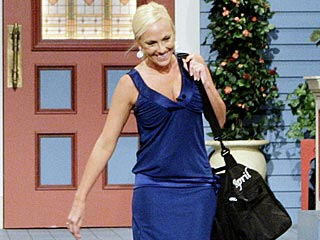 EW: Were you trying to throw down against Keesha's fake boobs?

April Dowling: I was trying. Mine are real! Jerry was the first to jump up and check them out but he barely touched him. He was so nervous. It was Ollie who followed next.

EW: You pretty much zeroed in on Ollie that first night, right?

April Dowling: It took us a little while to start to conversate. Once I talked to him, I learned how respectful he was and he was really easy to talk to.

EW

: Anyone who watches

Big Brother

knows that alliances are an immediate target. Yet you hooked up with him anyway.

April Dowling: He was a pretty strong competitor and kind of my opposite. America has seen that I have a hot temper. I speak my mind. He is very low key and many times he actually helped me in the game. When I'd fly off the handle, he sat me back down and managed to cool me down. If hurt me in game, well... it could have been something else, like my alliance with Libra and Keesha.

EW: Lets go back to that HOH competition when you won. You swore on Boston. Just to be clear, who is that?

April Dowling: Boston is my nephew, my twin sister's little boy. I swore on Boston that I would not put Michelle up for eviction.

EW: After you won HOH, you insinuated that Libra couldn't be trusted to win POVs.

April Dowling: She had been complaining all day long about feeling under the weather and was not up for the competition. I was very drained and emotionally unstable at that point so I was upset and doubting her. So I told her that.

Continue reading April's talk with Entertainment Weekly ...

Matt Richenthal is the Editor in Chief of TV Fanatic. Follow him on Twitter and on Google+.

Tags: Big Brother