Sally Pressman is one of the beautiful stars of Lifetime's Army Wives. Sally was recently interviewed by BeautyInterviews.com, where she talked about her role as Roxy LeBlanc in Army Wives, as well as her beauty secrets.
Q: Can you tell us about Army Wives and your role as Roxy?
Sally Pressman: Army Wives is a TV show based on a real book by Tanya Biank called Under the Sabers and basically talks about the life on the home front. Army Wives shows the unnatural friendships that occur on the post. Just because everyone is united by the fact that they have family members overseas and they are not sure when they are coming back. Roxy LeBlanc, my character, is a sassy bartender with two kids with two separate guys. She has kind of a lot of unfortunate circumstances in her life. Roxy meets Trevor, who is her husband at the beginning of the show for 17 days, so it is a very new romance. Roxy sacrifices everything and picks everything up to where she is. And basically Season One tracks this very new marriage and these two people who are in love in an almost a fairy tale way.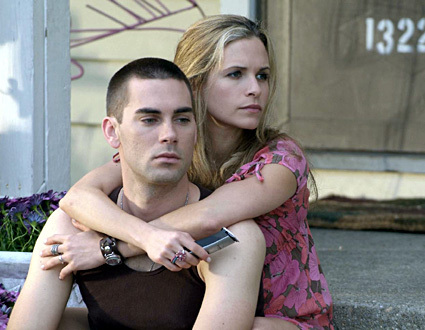 Q: Was it difficult for you to get into the role of Roxy LeBlanc?

Sally Pressman: She is close to me in a lot of ways. We are both very opinionated but we also have a very good heart, she is a really good person and she really wants to do well for the people she loves.

Q: How do you keep your hair so beautiful?

Sally Pressman: I have got a lot of very thick curly hair and I really keep it healthy by never blow drying it because the heat does so much damage to your hair. I air-dry my hair. I use great shampoo and leave-in conditioner called: Bed Head Curls Rock, it is for curly hair it is very rich and great moisturizing.

Q: What is your favorite skincare product?

Sally Pressman: Kate Somerville, which is a skincare line based is LA. I exfoliate twice a week. My mom told me from early on to take care of your skin and keep it clean and moist. As long as you do that doesn't matter what you put on your skin.

Q: What one beauty product we will always find in your purse?

Sally Pressman: I always have my Makeup Forever amazing eye cover-up Lift Concealer, my Stila lip gloss, Blistx Lip Shine, and I always carry Kiehls hand cream. I love Kiehls.

Q: What new and upcoming projects are you working on?

Sally Pressman: I did a movie for Lifetime which should be airing in March called Love Sick. The film is directed by Grant Harvey. I play Sue Silverman opposite David James Elliot. I also play a part in Bachelor No. 2 with Dane Cook, Jason Biggs and Kate Hudson.

Continue reading Sally's interview here ...

Steve Marsi is the Managing Editor of TV Fanatic. Follow him on Google+ or email him here.

Tags: Army Wives