Private Practice is back (October 1), and the cast shared a little info at the premiere party for the Season One DVD (out September 16).
E! Online has the scoop ...
According to Kate Walsh (Dr. Addison Montgomery), "There's so much happening this season! There's a lot more surgery. There's lots of sex. We realize in the first episode that the practice has a little financial turmoil happening, which I think is actually topical in the state of our economy. I think a lot of people can identify and relate when you mortgage a place and then find yourself thinking, 'Uh oh! How am I gonna pay for it?'"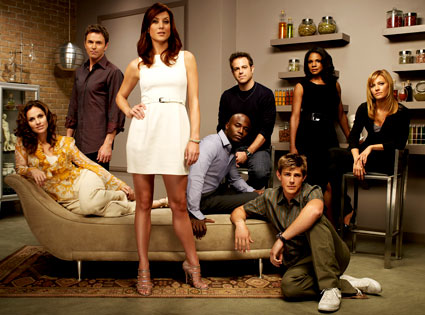 Or, as Paul Adelstein (Cooper) put it, "The practice itself gets threatened. It might go under. The other thing that Shonda Rhimes is trying to do is really get into some medical ethics issues that doctors and families have to deal with all the time. There are some really good storylines about that stuff."

Many more Private Practice spoilers - including a possible Taye Diggs nude scene (!?) coming your way after the jump ...

Meanwhile,

Chris Lowell

(Dell) gave up the real goods on what to watch for this season: "Taye Diggs and full-frontal nudity. That's all I can tell you. It just gets weird! I mean it's really nice and intimidating - for the guys - to see. Taye's a whole lot of man. And that's it. No! Truthfully though, what you can expect from Season 2 of

Private Practice

? There's a lot of crisscrossing of relationships that you maybe didn't expect and didn't see last season; a lot of romances flaring up, and it's going to be all over the board. It's a web."

According to Amy Brenneman (Violet) the second-season premiere will happily fill in many of the gaps in our understanding of how these people met and came to work together: "I was really happy with the initial episode of this season because I think it answers some questions that we all were asking, that we didn't really have time to get in to last year about what kind of place this is and what they're up against. Everyone gets these beautiful back stories."

Steve Marsi is the Managing Editor of TV Fanatic. Follow him on Google+ or email him here.

Tags: Private Practice, Spoilers