It's a good time to be The Bachelorette.
After years of choosing her from among the contestants who don't find a love connection on The Bachelor, ABC's hit reality TV spin-off is conducting its first-ever search for a female star of the series.
Chris Harrison, the host of both shows, talked to TV Guide about the search, and about the next season of The Bachelor, starring Jason Mesnick.
The happily married Harrison also talked about DeAnna and Jesse, finding love on TV, and whether we'll ever see a gay Bachelor or Bachelorette.

TV Guide.com: What are the qualities you're looking for in the next Bachelorette?
Chris Harrison: It's hard to answer that because really, there's no set picture. We've had rich, we've had poor, we've had famous athletes, actors, we've had it all. So we're not exactly looking for a type. It's just somebody who's willing to take this leap of faith, who's obviously ready to commit and ready for a relationship. Honestly, you really never know what we're looking for and we never know until we find it. There's really not this set picture that we go into casting and say that's it - the blond-haired, blue-eyed six foot model. Because that's not necessarily what we want.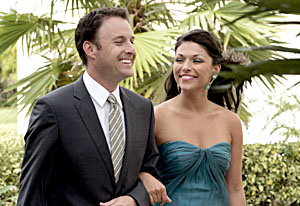 THE MEDIATOR: Chris Harrison with last season's star, DeAnna Pappas.

TV Guide.com: There must be a huge number of women who see this as a big break and want to be famous more than they want to meet the right guy. How do you weed them out?

Chris Harrison: When it's The Bachelor and it's 25 women, you do get your share of that. It's impossible not to. But I always love that aspect of the show because we don't - it's not a game show. There's no big prize at the end. So it's really up to the Bachelor to find those girls and weed them out. That's part of life. There's always girls in relationships for the wrong reason. When we're looking for The Bachelorette, that's kind of our job. Does she just want to be a model, or does she really want to get into movies or whatever. I have found that when we've done the Bachelorette they are even more sincere when they come into this than the guys are.

TV Guide.com

: There've been so many gimmicks on other dating shows. Why do you think your formula has continued to work?

Chris Harrison: Yeah. We were on our exotic date in Cabo San Lucas and Mike Fleiss, the creator of the show, and I sat down and we tried to list all the rip-off shows over the years and we stopped at like 25. I don't know if there's a record for this but it has to be the most copied, ripped-off show in the history of television. Our show, there's no spin, there's no gimmick, there's never a twist. All it is is, at the end, can you find love? It really goes to the same reason people love soap operas. In the end, everyone wants love. Everyone wants a relationship, whether you admit it or not. And we also enjoy the train wrecks and the drama along the way.

TV Guide.com: Are you still in touch with DeAnna or Jesse?

Chris Harrison: Oh, absolutely. Yeah, they're both very good friends of mine. I will say that I was definitely sorry to hear they broke up, and wish them both the best. And still consider them both very good friends of mine.

TV Guide.com: One of the things that made Jason Mesnick such an interesting contestant on the Bachelorette is that he had his young son, Ty. Is Ty going to be meeting any of the women Jason is dating?

Chris Harrison: I can't give too much away on the show, but I will say this: Jason, coming into this, was very respectful - he's a great dad, a phenomenal dad - he was very respectful of Ty not being exploited or used in any way. His number one priority is looking out for Ty. This show is going to be amazing. People are going to blown away in January by Jason in this season. It's unlike anything we've ever done, with having him being a single dad with Ty. And all the women coming in knew he was a single dad, and so the show has a completely different feel than we've ever had before.

TV Guide.com: You've had plenty of high-profile successes in bringing people together, but obviously the majority of them don't work out. Do you think it's just that some relationships don't work out, or is it a flaw with the way they met? Is it just impossible to get to know someone on television?

Chris Harrison: No, I think it's definitely the former. It's just the law of averages with relationships. You look at why Trista and Ryan Sutter succeeded, and Andrew Firestone and Jen Schefft didn't. They met the same way. They both fell in love the same way, and I would have bet the same amount of money that Trista and Ryan would make it that Andrew and Jen would've. But in the end, they lived together, and it, for one reason or another just doesn't work out. And that has nothing to do with the show or Hollywood, or whatever. It just has to do with real life relationships, whether they work or not. Sometimes they do, sometimes they don't. Honestly, it's one of the things I love about our show. At the end we don't have a priest or a rabbi pop up and say OK, we're getting married. At the end, its, 'Okay, you guys, you're in love, go live your life.' And we wish them the best. Sometimes it works and sometimes it doesn't.

TV Guide.com: There's all this controversy lately over Proposition 8, the California measure barring gay marriage. Would you ever do a same-sex The Bachelor or The Bachelorette?

Chris Harrison: If ABC and Mike Fleiss have created the show and signed off on it I'll be happy to host.

Matt Richenthal is the Editor in Chief of TV Fanatic. Follow him on Twitter and on Google+.

Tags: The Bachelor, The Bachelorette