Tonight on CSI, Laurence Fishbourne debuts as Ray Langston.
Thanks to TV Guide, here are four facts fans need to know about this character:
Fishburne Is Not Replacing William Petersen
Once the dust settles, Petersen will be gone and Fishburne will be featured. But Langston ultimately joins up as a CSI-Level 1 — a plebe, albeit a highly educated one. Instead, in this week's episode, Grissom crowns Catherine (Marg Helgenberger) as the new supervisor. As he should.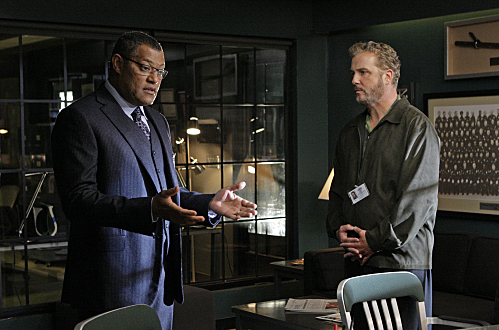 Fishburne's Character Is Not a Serial Killer
At this summer's TCA press tour, the announcement of Fishburne's casting included a confusing allusion to his character possessing a DNA trait common to serial killers. "It was misreported a little bit," said executive producer Naren Shankar. "What we really want to play with in a dramatic sense is he's been able to examine his own genetic profile to an extent and find certain clusters of biological facts that he has in common or that are associated with aggressive and criminal behavior."

Grissom Isn't Leaving... Yet
Although he announces his departure tonight — prompting one perturbed coworker to snark, "You gotta do what you gotta do. Have a nice life," while another introspectively tells him, "I knew before you knew" — Grissom's final appearance as a regular character isn't until January 15.

Grissom Isn't Gone for Good
Petersen and CBS have said from the onset of this discussion that the actor and Gil will resurface on an intermittent, guest-star basis. Moreover, Petersen is staying on board as an executive producer.

Matt Richenthal is the Editor in Chief of TV Fanatic. Follow him on Twitter and on Google+.

Tags: CSI, Spoilers