From the lighter side of Gossip Girl news comes this funny story in the New York Post about someone even more weirded out about Aaron Rose than most.
The real Aaron Rose.
For weeks, many Gossip Girl fans have been ranting on sites like this one about its least popular character - greasy, disaffected downtown artist wannabe and Serena van der Woodsen love interest of indeterminate age, Aaron Rose.
Count the real-life Aaron among those who are far from pleased.
"I wish they would have made him cooler," says the former downtown artist who says he was contacted by a Gossip Girl writer six months ago, then heard nothing.
"It's funny and it's flattering, but there's a part of me that's like, 'Oh, go after them - this is not cool. They're messing with my reputation.'"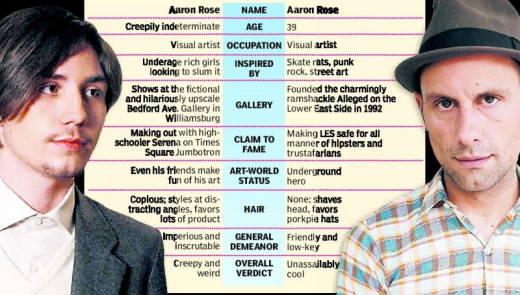 One reason: The fictional Aaron Rose - played by John Patrick Amedori - is clearly way older than Serena van der Woodsen, the high-schooler he's dating.

He enjoys layered scarves that  drown his diminutive frame; attempts to grow out a patchy goatee and creepy moustache and says things like, "I don't know how you do it in high school, but I enjoy dating more than one person at a time."

Worse, he makes and displays bad art.

The real Aaron Rose is now 39. He, too, is an artist, and in 1992 founded and opened the Alleged Gallery on Ludlow Street. The tiny gallery helped pioneer the Lower East Side as a home for scenesters and misfits - and Rose showed early work by now-established artists such as Mike Mills, Shepard Fairey and Spike Jonze.

Real Rose - who now lives in Los Angeles - became a Lower East Side fixture, known to like-minded souls and readers of the downtown bible,

Paper

magazine.

When the fake Aaron Rose made his debut on Gossip Girl one month ago, the real Aaron Rose was in Europe. He was unaware that his fictional counterpart materialized on a TV show until he was deluged with "about 5,000 text messages."

Now, he gets so many texts when Gossip Girl episodes air that he thinks the show's producers should pick up the tab for his cellphone bill.

"On the one hand, I think it's super-hilarious, and I should be flattered that I'm considered mock-worthy. But - his hair! He has terrible hair!" he says.

The real Aaron Rose adds that the Aaron Rose portrayed on Gossip Girl does not, in any way, comport himself like an actual artist.

"He acts like a model," says Rose. "Like a male model. Anyone who's a visual artist would laugh at him."

He was greatly distraught to hear that fake Aaron's crappy, crappy artwork has been displayed on the air.

"Oh, no!" he exclaims. "Oh, no! Now you're bumming me out."

Most annoying: "He's just not cool. Not like I'm Mr. Cool; I'm not trying to say that. I just think he wasn't a very well-researched character."

The show's producers declined comment.

Steve Marsi is the Managing Editor of TV Fanatic. Follow him on Google+ or email him here.

Tags: Gossip Girl