Okay, E! Online's most recent spoiler chat column was kinda weak sauce, but Kristin Dos Santos is making up for it with a special Q&A session on just The Office!
Here's her scoop on this week's episode, "Stress Relief" - airing Sunday, after the Super Bowl, not during the show's usual Thursday time slot - and beyond ...
Q: What's going to happen with Angela now that Andy and Dwight have both dumped her (after the hilarious, climactic scene in "The Duel")?
A: According to the lovely Angela herself, "I think she goes out and buys some animals. I see a lot of cats in her future. Sprinkles the Second. What else is left for her in the office? Like, is she going to go after Jim? Can you imagine? There's Jam fans around the world right now going, 'Nooooo. Don't you dare!'" Hee.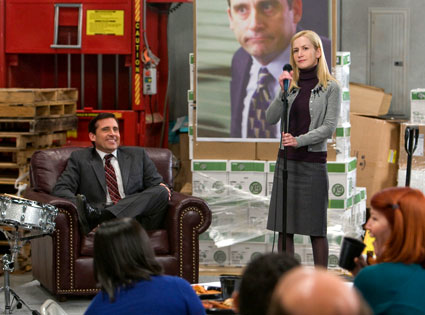 Q: So Rainn Wilson thinks Dwight and Andy should become buddies now. Any word on Ed Helms' thoughts?

A: Not surprisingly, Ed Helms shares the exact same feelings that Rainn Wilson talked about on this week's Watch with Kristin Show. Ed says, "We just sort of blew up in the last episode, and it kind of resolved a lot of things. What was really neat was that Dwight and Andy forged a little bit of a connection over both getting screwed over by Angela. I kind of think it'd be funny if we became pals." I smell a banjo-playing, beet-farming bromance in the works!

Q:

What is Idris Elba going to do on

The Office?

A: Now that Jan (Melora Hardin) and Ryan (B.J. Novak) have both been fired, new cast member Idris Elba enters just in time to steal the coveted position from Michael. Writer-producer-actor Paul Leiberstein (Toby Flenderson) tells me, "We have a great arc in the spring where Idris comes in, and he's been promoted into Jan's old job over Michael, and Michael expected to get it himself...He doesn't handle it well." Elba hangs around for six episodes beginning in March. "There's quite a lot of tension with a presence that imposing and a guy like Michael Scott who just can't keep it together." As if Michael hadn't been through enough this season!

Q: Will we ever actually see the documentary they're making at Dunder Mifflin?

A: Not likely. Paul Lieberstein says, "Just a small amount of fame from a reality show is just a game-changer, completely. I think we'd be in a completely new series, and I think we're not ready to give up this one." So is there a chance we could see it in the final season? "We've talked about it, but I don't know if it's going to be the most satisfying way to see Michael Scott (Steve Carell) grow as a person, to see him become a horrible ex-reality star," adds Lieberstein.

Q: Is Ryan on The Office back from getting his drugs in Asia, or will he be MIA for the rest of the season?

A: According to B.J. Novak, the whereabouts of Ryan are still unknown, but "he says he's in Thailand." That suggests he's still shacked up in Phuket, surrounded by hookers and opium, Chuck Bass-style, but there's no telling. According to B.J., "We'll find out this spring when he comes back." Mark your calendars!

Q: Can you tell us anything about The Office's Super Bowl episode?

A: I asked B.J. Novak about the Super Bowl ep, and he tells me, "We shot it, we locked it, it's ready to go, and it's awesome. After this airs, people are going to refer to the Super Bowl as the Pre-Office Football Spectacular." What was B.J.'s favorite part? "Well, it starts on a really high note and doesn't let up." Yay! And Angela Kinsey says, "We go up against the Puppy Bowl and maybe Victoria's Secret, and we're just a bunch of normal-looking people in an office, but then we've got some big ol' movie stars." Yay for secret weapons Jessica Alba and Jack Black!

Steve Marsi is the Managing Editor of TV Fanatic. Follow him on Google+ or email him here.

Tags: The Office, Spoilers