Amanda Righetti stars on The Mentalist as rookie investigator Grace Van Pelt.
The beautiful actress spoke to TV Guide this week about her expectations for the show, along with the characters she portrays on it.

TVGuide.com: Did you have any idea that The Mentalist would be a hit?
Amanda Righetti: No, I don't think you ever know going in. I've done a lot of shows that didn't do well. You have to go in with a 50-50 take on it. If it goes well, fantastic. Hope for the best and plan for the worst. I thought [The Mentalist] was clever and different from other procedural shows. The wittiness was interesting. At the table read, when Simon and the whole cast were there, it really started to come together for me.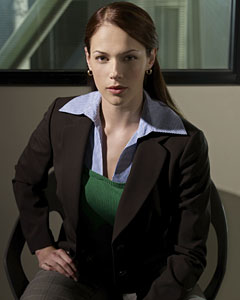 TVGuide.com: What is Van Pelt's role on the team?
Righetti: As the moral center, the jokes about the dead bodies don't go over well with her. She can be very serious in that way. Because she's a rookie and stuck in the office, she's also the computer nerd of the group. But really, she's still finding her feet within the team, learning the ropes and how peoples' personalities differ. There are times when she walks on eggshells and others when she takes a bold step forward. Two steps forward, two steps back...

TVGuide.com: What does Van Pelt think of Patrick Jane?
Righetti: I think Van Pelt is intrigued and amused by him. But because Patrick is the lead of the group, we all — Lisbon included — look at him with mystery: How did you know that? How are you coming to these conclusions?

Matt Richenthal is the Editor in Chief of TV Fanatic. Follow him on Twitter and on Google+.

Tags: The Mentalist