Amy Poehler's new NBC comedy series, Parks & Recreation (it's from the same producers who bring us The Office quotes every week, so we're optimistic), begins filming today!
Amy spoke a little with E! Online about falling down a lot, working with co-star Rashida Jones, balancing work and family, and what's to come when the show debuts in April ...
Q: How is it juggling the new job and the new baby?
Amy Poehler: Honestly, I feel very blessed and lucky to just be figuring it out!
Q: So now that you know your character, Leslie Knoppe, a little better, what can you tell us about her and Parks and Recreation in general?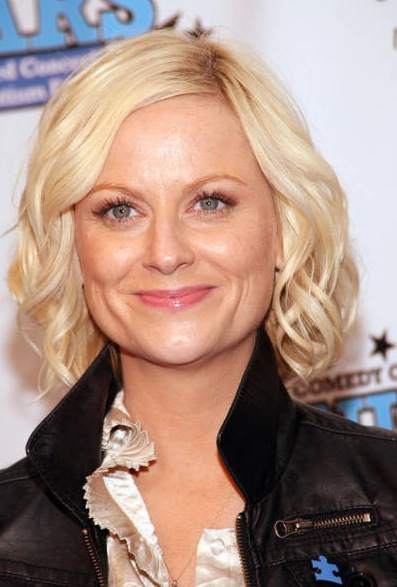 Amy Poehler: She wants it all right away, and doesn't quite understand the maneuvering that you have to do to get things done. So I always mistakenly assume everyone is on the same page, like "Let's all make it better!" And it doesn't work like that. I think she slams into the reality of how things are done behind the scenes, how things become very bureaucratic and complicated. Things very simple to her - like we should all have clean drinking water and a park for people to play in! Instead you realize how difficult even those little things are.

Q: Did you get to have input into creating the character?

Amy Poehler: Yeah, Michael, Greg and I have been talking a lot about her, and yes, I did. Certainly it was their idea to kind of set this place where it is, then we talked a lot about what kind of person we wanted to see and what she kind of hoped and wished for herself and stuff, so it's been an amazingly happy time.

Q:

How's Leslie's love life?

Amy Poehler: There's a character in the pilot, a guy that Leslie has had a brief affair with, named Mark. And she thinks he's not speaking about it out of politeness, but he just doesn't remember.

Q: Ouch. There are some pretty physically demanding scenes in that first script.

Amy Poehler: Yeah, I get to fall down into a pit. It's hard-hat comedy!

Q: How's it having Rashida Jones (Ann) as your friend on the show?

Amy Poehler: I'm excited about the idea of us, because you don't see it as much in television, the idea of this female friendship. I think Leslie gets really excited that she's got this new friend, and Rashida plays a very attractive nurse. Leslie is just really excited to be around her, much like when I'm around Rashida. There's some comedy in how much Leslie wants to be friends with her. It's a little too fast.

Q: It's a little bit of a girl crush?

Amy Poehler: It is a little bit of a girl crush, and she goes a little too fast. In the pilot, we meet on the second day; we're not best friends but I think we're really close, but Leslie's just moving way too fast.

Q: What excites you most about this show?

Amy Poehler: It's a great opportunity to work with a great cast and great producers and writers. I'm excited about settling in and doing a really specific character, respectfully written, and I think it's really funny and really small and low-stakes. And I enjoy small, specific, low-stakes humor.

Steve Marsi is the Managing Editor of TV Fanatic. Follow him on Google+ or email him here.

Tags: Parks and Recreation